Brexit Stuns Finance Chiefs as Global Bank Stocks Plummet
By , , and
Barclays, Lloyds tumble as European bank index falls most ever

Deutsche Bank CEO called the decision "negative on all sides"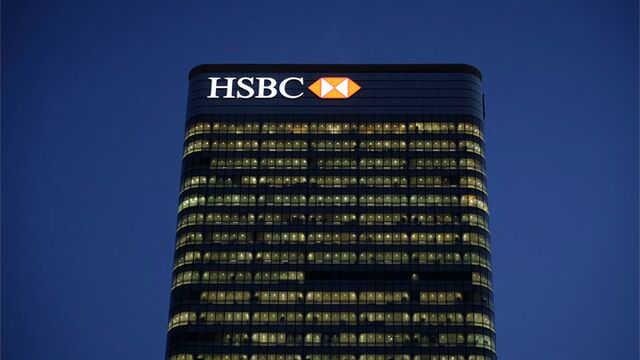 Bank stocks plunged worldwide and finance chiefs were stunned by the U.K.'s vote to leave the European Union as concern mounted that a slump in economic growth, lower asset values and higher restructuring costs will hurt profit.
The Bloomberg Europe Banks and Financial Services Index fell 14 percent, the most in its history. Barclays Plc posted its biggest drop in more than seven years, while Deutsche Bank AG had its biggest intraday drop since the financial crisis. Citigroup Inc. fell as much as 9.5 percent, and Morgan Stanley dropped 9.4 percent as of 1:56 p.m. in New York.

"This is not such a good day for Europe," Deutsche Bank Chief Executive Officer John Cryan said in a statement. "We cannot fully foresee the consequences, but there's no doubt that they will be negative on all sides."
Financial markets convulsed as investors dumped the pound and equities and piled into safe-haven assets after Britain became the first country to quit the EU, triggering doubts about the world's economic outlook and the political future of Europe. Senior bankers from JPMorgan Chase & Co.'s Jamie Dimon to HSBC Holdings Plc's Stuart Gulliver had warned that a Brexit could cause them to move thousands of jobs from the U.K. just as record-low interest rates are squeezing margins and forcing lenders to cut costs.
To follow the latest news with our TOPLive blog, click here.
Lenders in Greece and Italy were hardest hit on concern that Britain's departure could prompt other EU members to hold their own referendums, with the potential for similar results. French Prime Minister Manuel Valls said there was a risk of Europe dislocating on the back of the U.K. vote.
"The decision to exit creates uncertainty for the global economy," said MetLife Inc. CEO Steven Kandarian. "From a strictly economic perspective, it's difficult to see who benefits from this outcome."
Dimon called the decision a seminal moment in European politics and the history of the U.K.
"Our operating model in the U.K. remains the same," Dimon said in a note to staff. "In the months ahead, however, we may need to make changes to our European legal entity structure and the location of some roles."
The result comes on the eve of the 30th anniversary of Margaret Thatcher's "Big Bang" reform package, which established London as one of the world's preeminent financial hubs. That status may now be diminished, especially if the U.K. loses "passporting" rights which allow banks to reside in the U.K. and sell their products and services throughout the EU.
"The city is not going to lose the financial leadership of Europe, it's too far ahead, but a lot of that lead is going to get eroded," said Ewen Cameron-Watt, chief investment strategist at BlackRock Inc. Dublin, Frankfurt or Paris may benefit, he said.

Earnings Hit
Analysts led by Andrew Coombs at Citigroup Inc. downgraded Lloyds Banking Group Plc and Barclays to sell after the Brexit vote. British banks' 2018 earnings could be 20 percent weaker than previously estimated, JPMorgan analysts led by Kian Abouhossein wrote.
Thirteen banks in the Stoxx 600 Index -- including Lloyds, Bank of Ireland, France's Societe Generale SA and Italy's Intesa Sanpaolo SpA -- fell more than 20 percent. A gauge of where bank borrowing costs will be in the months ahead, known as the FRA/OIS spread, hit the most extreme level since 2012, and a key rate of the cost for banks to convert euro cash flows into dollars increased.
"It's an obvious shock to the system," said Jesper Koll, CEO of Wisdomtree Japan. "You've got this adjustment to the new reality in the exchange market and in the equity market -- but the real question is whether the macro adjustment forces a banking crisis. Will Europe have a Lehman-type shock with one of the European continental banks being forced into insolvency?"
'New Era'
Prudential Plc, the U.K.'s largest insurer, contributed to a record selloff in insurers in London trading. The 17-member FTSE 350 Insurance Index tumbled as much as 20 percent, the most since at least 2004. It closed 11 percent lower.
U.K. banks including Lloyds and international lenders like Goldman Sachs Group Inc. indicated their commitment to the U.K. and said they'd adapt and serve clients in the new environment. Barclays CEO Jes Staley said the strategy he laid out three months ago wasn't affected and the bank wouldn't "break our stride."
HSBC and Standard Chartered Plc, which are both based in London but generate much of their revenue in Asia, fell the least among banks in the Stoxx 600 Friday.
"We are today entering a new era for Britain and British business," HSBC Chairman Douglas Flint said in a statement Friday. "The work to establish fresh terms of trade with our European and global partners will be complex and time-consuming."
The head of JPMorgan's corporate and investment bank, Daniel Pinto, said the outcome of those negotiations will determine how many employees the U.S. bank moves out of Britain.
"London will always be an important financial center," Pinto said in an interview. "The reality is that the EU's agreement with the U.K. will determine how much of what is currently being done here will have to be done somewhere else in Europe in the years to come."
In the U.S., the Standard & Poor's 500 Financials Index fell almost 5 percent. Morgan Stanley, which trailed rivals on a key measure of leverage in results of the Federal Reserve's annual stress test released Thursday, fell the most among the large U.S. banks.  
Banks' Plans
Here's what banks have previously said about their plans and the potential impact:
Morgan Stanley President Colm Kelleher said this week leaving the EU would be the most significant geopolitical event for the continent since the end of World War II and could prompt the bank to move its local headquarters to Dublin or Frankfurt. About 1,000 employees, one-sixth of its U.K. workforce, could relocate, according to a person with knowledge of the bank's contingency plans.
Dimon said earlier this month that Brexit would be a "terrible deal" for the U.K. economy and that JPMorgan could have to move a quarter of its 16,000 British workers to Europe if it occurred.
HSBC has said that it will keep its headquarters in the U.K., but may have to shift 1,000 of its 5,000 London investment banking employees to Paris.
Deutsche Bank's Cryan said at a May 31 conference that business would move away from London, in particular the euro-zone transactions that currently go through London. 
Citigroup warned staff that a vote to leave would probably require it to "rebalance" operations across the EU to retain passporting rights.
Goldman Sachs has said it expects to move some of its offices to continental Europe in the event of an exit vote.
Banco de Sabadell SA, which owns U.K. lender TSB Banking Group Plc, doesn't see any significant risk for the bank from Brexit, according to Chairman Josep Oliu. TSB would only be affected by a sterling devaluation, and the bank has appropriate hedges, he said.
ING Groep NV Chief Executive Officer Ralph Hamers said earlier this year the Dutch lender would probably follow other major banks in reducing its London staffing levels if the U.K. withdrew.
OneSavings Bank Plc, one of the U.K.'s new smaller lenders, is bracing for a slowdown in the British economy and reduced demand for property, making it "harder to keep growing," CEO Andy Golding said this month.