Corbyn Rejects Calls From U.K. Labour Party Lawmakers to Resign
by
Labour leader faces debate on no-confidence motion on Monday

Corbyn 'failed to give a strong message,' Labour's Coffey says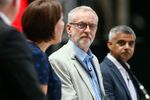 U.K. Labour Party Leader Jeremy Corbyn rejected calls for his resignation from senior lawmakers who blamed him for failing to galvanize enough party support to thwart Britain's secession from the European Union Thursday.
"I'm carrying on; I'm making the case for unity," Corbyn said Friday on Channel 4 News when asked whether he will resign. "Is it really a good idea to start a big debate in the Labour Party, when I was elected less than a year ago with a very large mandate?"
The vote to leave the 28-nation bloc has already claimed the scalp of Prime Minister David Cameron, who announced his resignation earlier Friday after his failure to persuade the nation to stay in the EU. The result sent the pound to its lowest level against the dollar since 1985 and prompted Scottish National Party leader Nicola Sturgeon to raise the prospect of a second independence referendum for Scotland, which voted for the status quo.
Corbyn was responding to a motion of no-confidence in his leadership submitted on Friday by Labour lawmakers Ann Coffey and Margaret Hodge to parliamentary party Chairman John Cryer for consideration at the group's weekly meeting on Monday evening.
'Confident of Winning'
"We wouldn't have tabled it if we weren't confident of winning it," Coffey said in a telephone interview. Corbyn "did not show the leadership that was required during the EU referendum campaign. He failed to give a strong message and he failed to convince the public that he genuinely wanted to stay in the European Union."
Corbyn disputed that, saying on Channel 4 News: "I traveled the length and breadth of the country. I did meetings in every major city. I did no end of factory meetings, college meetings, university meetings, and I did put the case across." 
"At the end of the day, the majority of Labour voters voted to remain, the vast majority of Conservative voters voted to leave," he said.
'Too Late'
Corbyn, a long-standing Euroskeptic who voted against EU membership in 1975, didn't make his first speech on the topic until two months after Cameron's announcement of the referendum, and in his rare media appearances he repeatedly highlighted the EU's flaws, even while arguing for a "Remain" vote.
"He started too late," Hodge said of Corbyn's campaign in a BBC Television interview. "He was very half-hearted in the leadership he gave to Labour over it."
Large swathes of Labour heartlands in northern and central England, as well as Wales, voted to leave the bloc. The swing was flagged early in the vote count when Sunderland, a northeastern region whose three members of Parliament are all Labour, voted "Leave" by more than 60 percent.
"He is not demonstrating that he has the reach to win a general election," another Labour lawmaker, Caroline Flint, said on Channel 4 News.
Survival Prospects
Even if Labour's lawmakers vote to oust Corbyn, he could survive with the support of the wider party. Lawmakers determine who's on the ballot in Labour leadership contests, and then the actual vote is taken by party members. Corbyn has relatively little backing among Labour parliamentarians, but he won election by a landslide last year.
Labour rebels have previously investigated the prospect of overthrowing their leader and concluded that it won't be easy to keep Corbyn off the ballot, Steven Fielding, a professor of political history at the University of Nottingham, said in a phone interview.
"I would be very surprised if it ends up with the exit of Jeremy Corbyn," he said.
Before it's here, it's on the Bloomberg Terminal.
LEARN MORE