Carney Discusses Additional Measures - Analysts Hear Rate Cuts
Goldman Sachs and Credit Suisse forecast the Bank of England will cut interest rates to a new record low by August
by and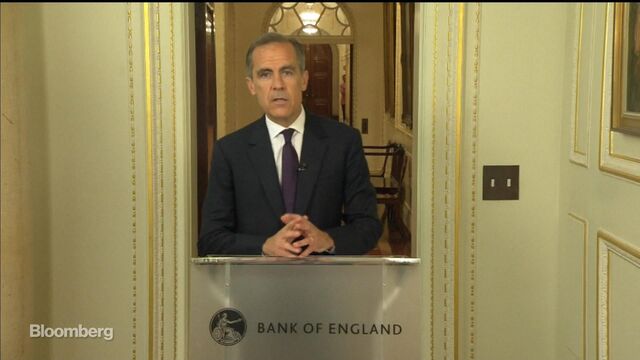 Bank of England Governor Mark Carney just took a leaf out of Mario Draghi's playbook, promising the bank won't hesitate to take additional measures after Britons voted to quit the European Union.
The Canadian governor presiding over one of the most tumultuous periods of the 320-year old British institution's history said he's ready to provide an additional 250 billion pounds ($345 billion) of funds if needed.
For analysts at Goldman Sachs Group Inc. and Credit Suisse Group AG, Carney's 'additional measures' will include an interest rate cut by August at the latest.
At the BOE's upcoming meeting in July, Carney will introduce credit easing measures that include the purchase of corporate bonds and follow this up with a 25 basis point rate cut in August, Goldman analysts led by Chief Global Equity Strategist Peter Oppenheimer forecast.
"The single-largest macro risk for Europe this year – that the U.K. would vote to leave the EU – has crystallized," the strategists warned.
Credit Suisse analysts led by Neville Hill expect rates to be cut to a record low of 0.05 percent down from 0.5 percent – their level since 2009, – as well as another round of quantitative easing of 75 billion pounds. The BOE could act as soon as July if the collapse in sterling becomes disorderly, they said.
Morgan Stanley also expects an "easing bias," yet predicted the U.K. central bank will be "slow to act on rate cuts" and instead will be ready to intervene in case of disruptive market developments, especially in currencies and gilts. Its economists led by Jacob Nell wrote:
"In a 'civilised divorce' scenario, where the uncertainties are progressively reduced and the economy avoids recession, we see the Monetary Policy Committee on hold. In an 'acrimonious divorce' scenario, where the uncertainties interact and amplify each other, we see the economy in a referendum recession by year-end. We expect this to trigger a cut in rates to 10 bps, another £50 billion tranche of QE, and easier fiscal policy, including the possibility of a radical helicopter money experiment."
The odds of a rate cut implied by swaps have spiked in the aftermath of the Brexit vote, with a reduction in the policy rate next month now a virtual coin flip, according to traders.
On a morning when Britons voted to end a 43-year union with Europe and Prime Minister David Cameron announced the end of his six-year premiership, it seems fitting to ponder whether the BOE will break with its seven-year holding pattern on interest rates and make aggressive efforts to quell market turmoil.

Whether Carney's promise of additional liquidity is enough to stabilize markets remains to be seen. Ahead of the referendum, Steven Englander, Citigroup Inc.'s Head of G10 FX Strategy, warned central bankers must be prepared take more decisive action to avoid a dire economic outcome.
"My conjecture is that central banks hope, but are not certain, that promising liquidity is enough to deflect risk that asset markets freeze up or sell off badly," he wrote. "However, it would be imprudent if they were not making contingency plans for heavier policy moves if the promise of liquidity and provision of swap lines is not enough."
Before it's here, it's on the Bloomberg Terminal.
LEARN MORE