Brexit Sends World Markets for a Ride, Without Overwhelming
by , , and
'Not as chaotic as you'd think,' says broker in Chicago

Brexit, FTSE Russell rebalancing bring on a day of turbulence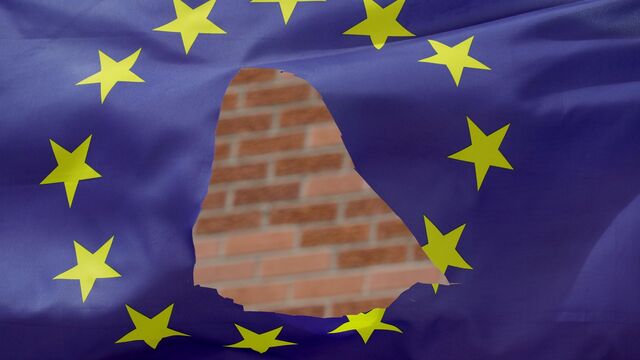 The world's financial markets passed a key test Friday, operating without a hitch across asset classes amid a surge in trading volume and price swings triggered by Britain's vote to leave the European Union.
A hectic but smooth day assuaged building concerns about the resilience of market structure in the eight years since the global financial crisis.
As volumes surged, U.S. trading in stocks, bonds and currencies started without incident on Friday, following the results of the referendum, which came as a surprise considering opinion polls leading up to the vote predicted a "Remain" victory. Equity and derivatives markets functioned normally amid heavier-than-normal trading, according to separate statements from U.S. Securities and Exchange Commission Chair Mary Jo White and Commodity Futures Trading Commission Chairman Timothy Massad.
"The U.S. market has been relatively orderly," said Steve Sosnick, equity risk manager at Timber Hill LLC in Greenwich, Connecticut.
Index Rebalancing
The news fell on the same day as an annual rebalancing of FTSE Russell's stock indexes, already a traditionally high-volume day for markets. In the end, whipped up by the Russell recalibration, almost 15 billion shares changed hands across U.S. exchanges Friday, double the daily average for 2016 and the most since S&P downgraded America's credit rating in August 2011. 
The Dow Jones Industrial Average fell 611 points, or 3 percent, at 2:55 p.m. in New York. Currency-trading volumes reached record highs on Thursday night into Friday, according to Jamie Dimon, JPMorgan Chase & Co.'s chief executive officer. Markets will continue to face challenges next week as fallout from the referendum continues.
"I see the volatility continuing," said Sang Lee, an analyst at Aite Group. "It's not really clear how this is going to play out, and it's a huge issue."
Total U.S. equity volume hit 15 billion shares.
Exchange operators temporarily adjusted rules to deal with the volume spike on Friday. The New York Stock Exchange widened its price collars, the thresholds a security can move up or down when it reopens after a trading halt, to 10 percent, the exchange said in an alert before the market opened. Tighter collars were blamed for exacerbating volatility on Aug. 24, when the S&P 500 plunged more than five percent in its opening minutes and trading halts plagued the market.
In another improvement over Aug. 24, Friday was a comparatively smooth trading day for exchange-traded funds, which faced price confusion and hiccups from a series of trading halts in the August rout.
"ETFs have performed extremely well," said David Mazza, head of ETF and mutual fund research at State Street Global Advisors. Price concerns likely lay ahead, he said. "From a performance perspective, equities across the board -- particularly European ETFs -- will see continued pressure."
Trading was also smooth in foreign-exchange markets as volume surged and the pound fell to a 30-year low.
"We've actually found that liquidity has been okay," said Sinead Colton, San Francisco-based head of investment strategy at Mellon Capital, which manages $341.8 billion. "In the first few hours in Asia, that may not have been the case, but we found that liquidity has been reasonable."
Widened Range
CME Group Inc. widened the range that it allowed certain contracts to rise or fall before triggering temporary trading halts, the exchange said in a notice to members. The changes applied to interest-rate and currency futures on the Chicago Mercantile Exchange and the Chicago Board of Trade. They expire Monday if not extended.
Dark pools, private trading venues that report trades only after they've concluded, took measures to stem volume. Deutsche Bank AG closed its dark pool, the fourth-largest by volume, to outside brokers and market-makers for several hours in the morning. Bank of America Corp. asked certain market-makers to cut their message traffic to its pool in half after Morgan Stanley's dark pool briefly went offline in London. 
Rich Repetto, an equity analyst at Sandler O'Neill & Partners LP, said he hadn't heard of any trading problems. "People are stunned a little bit," he said in an interview. Investors are "trying to do work on differentiating who has exposure and who doesn't."
Intercontinental Exchange Inc. and CME Group faced heavy volume but got trading started normally.
"Our markets opened smoothly and are operating normally amid heavy volume," said Kelly Loeffler, a spokeswoman for Intercontinental Exchange, owner of the New York Stock Exchange and ICE Futures Europe, one of Europe's largest derivatives exchanges.
Buying and selling on the floor of the Chicago Board of Trade was "moving along fairly smoothly," said Jim Keating, a broker for Grant Park Securities. "It's not as chaotic as you'd think."
Before it's here, it's on the Bloomberg Terminal.
LEARN MORE