Yellen's Fed to Play Long Game Dealing With Brexit Fallout
by and
Liquidity concerns could arise in the short-term for Fed

Decision could effect rate hike path and U.S. GDP growth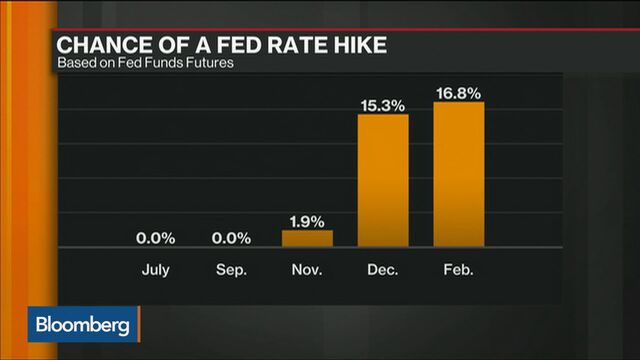 Britain's vote to leave the European Union will almost certainly have repercussions for the Federal Reserve -- and those could play out over days or months.
The severity of the fallout will become clear over three time horizons. On Friday, the Fed said it's ready to act with its global central bank partners to shore up liquidity in markets, if needed. In the medium term, the post-Brexit market turmoil could delay a rate increase, while in the longer term, secondhand effects could bleed into U.S. economic data. Here's what we know about each stage so far.
Immediate Effects
The Fed joined other major central banks Friday in saying it was ready to take action to help calm global financial markets.
"The Federal Reserve is prepared to provide dollar liquidity through its existing swap lines with central banks, as necessary, to address pressures in global funding markets, which could have adverse implications for the U.S. economy." - Fed statement
Earlier on Friday, the Bank of England and the European Central Bank made similar statements.
"To support the functioning of markets, the Bank of England stands ready to provide more than £250bn of additional funds through its normal facilities. The Bank of England is also able to provide substantial liquidity in foreign currency, if required." - Mark Carney, Governor, Bank of England

 "The ECB stands ready to provide additional liquidity, if needed, in euro and foreign currencies."- ECB statement
G-7 finance ministers and central bank chiefs also issued a joint statement promising coordinated action in an attempt to prevent "excessive volatility and disorderly movements in exchange rates."
With liquidity provisions and "soothing talk" from central banks "it's not hard to imagine a return to normality in the not-too-distant future," said Roberto Perli, a partner at Cornerstone Macro LLC in Washington.
Near-Term Hike Delay
The fallout from Brexit could delay the Fed's plan to increase interest rates in coming months, particularly if the dollar strengthens and uncertainty intensifies.
The British vote to leave comes at a time when Fed policy makers were already sounding less confident that a rate hike was imminent -- Chair Janet Yellen had been saying that an increase could be appropriate "in coming months," but that language has been conspicuously absent from her speeches following a weak May jobs report. Now, if markets are roiled and a flight to safe assets drives up the dollar and tightens financial conditions on a sustained basis, it could be even harder for the Fed to move.
Futures pricing discounted the odds of a rate increase and showed the probability of a cut running as high as 14 percent in November as of 1:20 p.m. in New York on Friday. Investors on Thursday saw zero chance of a rate cut this year.

Wall Street economists also began changing their predictions for rate hikes. Bank of America Merrill Lynch economists led by Ethan Harris pushed out their forecasts for rate hikes by a quarter, saying the Fed won't move until December, and then only twice next year.
Michael Feroli, chief U.S. economist at JPMorgan Chase & Co., changed his rate call for the second time in 10 days. Feroli said Friday he now expects no move until December. On June 15, he reduced his forecast for the number of 2016 hikes to one from two, saying that would most likely come in September.
Millan Mulraine, deputy head of U.S. research and strategy at TD Securities in New York, who previously expected a move in September and two next year, now believes the Fed will wait until mid-2017 for its next hike.
"We see growth falling, and we see inflation falling over the next few quarters" as the strong dollar bites, he said. "This is a process that will take some time, and it is possible that we will have some other dominoes falling."
Longer-Term Economic Effect
The longer-term impact of Brexit on the U.S. economy will depend largely on how long the effects on financial markets persist. Deutsche Bank AG economist Torsten Slok, using the Fed's primary economic modeling tool, outlined how different distortions might be expected to affect economic growth, assuming the central bank left its benchmark rate unchanged.

A 10 percent gain in the trade-weighted value of the dollar for one year would lower U.S. growth by 0.4 percentage point, and by 1.5 percentage points over three years; the Bloomberg Dollar Spot Index rose 1.6 percent from Thursday as of 10:20 a.m.
A 1 percentage point increase in yields of BBB-rated corporate bonds would lower GDP by 0.2 percentage point over one year and by 0.6 percentage point over three years; movements in corporate bonds won't be evident until the end of Friday's trading.
A permanent 20 percent drop in the Standard & Poor's 500 Index would lower GDP by 0.2 percentage point over one year and by 0.8 percentage point over three years; the index was down 2.3 percent at 10:21 a.m. in New York.
Conversely, a 1 percentage point drop in the yield on the 10-Year U.S. Treasury note would boost GDP by 0.4 percentage point over one year; 10-year yields have declined about 0.17 percentage point.


If financial conditions tighten, "the added uncertainty is just not good for short-term spending, hiring and investment decisions," said Joe LaVorgna, chief U.S. economist at Deutsche Bank Securities Inc. in New York."It's hard to say because it's fluid and you're not sure what the policy response overseas is."
Before it's here, it's on the Bloomberg Terminal.
LEARN MORE