Carney Says U.K. Banks Have Capital to Withstand Brexit
by
BOE's Carney says banks stronger since 2008 financial crisis

Carney says capital requirements will ensure lending continues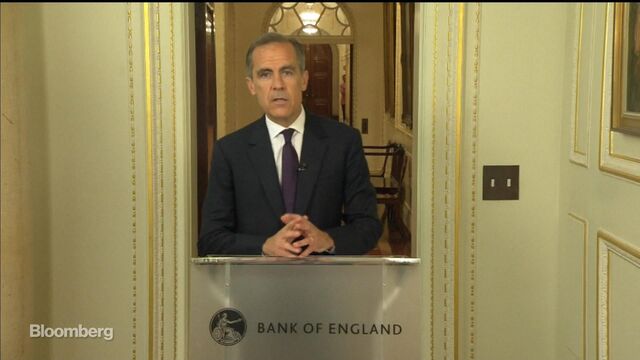 The Bank of England said requirements put in place after the 2008 financial crisis will help U.K. banks withstand market turmoil in the wake of Britain's decision to quit the European Union.
Capital requirements at the largest U.K. lenders are 10 times higher than before the crisis and are designed to enable banks to continue lending to businesses and households, BOE Governor Mark Carney said in a statement after Britain voted to secede. The result triggered a plunge in European stocks, with Barclays Plc and Royal Bank of Scotland Group Plc among the biggest losers.
"This substantial capital and huge liquidity gives banks the flexibility they need to continue to lend to U.K. businesses and households, even during challenging times," Carney said. The U.K. financial system is resilient and "one that the Bank of England has consistently strengthened over the last seven years."
Carney said the central bank will not hesitate to take additional measures as markets adjust.
The BOE has called the risks around the referendum the most significant domestic risk facing the economy, prompting the regulator to engage in contingency planning with the U.K. Treasury. Financial regulators around the world moved after the last crisis to regularly stress-test large banks against potential market routs.
'More Severe'
Carney said those tests have included "scenarios more severe than the country currently faces."
The "appropriate" level of Tier 1 capital, a regulatory measure of financial strength, for the banking system in aggregate is 11 percent of risk-weighted assets, the BOE said in December when it presented a new capital framework for U.K. banks. That's well below the 18 percent recommended by the Basel Committee on Banking Supervision, according to the BOE.
In explaining the lower number, Carney cited new bank-resolution rules known as total loss-absorbing capacity adopted last year by the Group of 20 nations. 
For now, the U.K. is still unable to resolve its largest lenders, according to Carney. When TLAC is fully implemented, the BOE will have "much more confidence" that it will be able to wind down even the country's largest banks, Carney has said. This certainty translates to about "5 percentage points of the reduction of that overall level of capital," he said in December.
Critics of Carney's capital policy include John Vickers, the chief architect of reforms that are remaking the U.K. banking industry.
As the BOE sets requirements for loss-absorbing liabilities that could be used to stabilize and recapitalize a foundering lender, Vickers said they ought to be concentrating more on preventing failures in the first place by demanding banks have more equity capital.
U.K. banks have raised over 130 billion pounds ($180 billion) in capital and now have more than 600 billion pounds in high-quality liquid assets, Carney said on Friday.
Before it's here, it's on the Bloomberg Terminal.
LEARN MORE