Your Favorite Instagram Dog Just 'Wrote' a Book
It's called ToastHampton: How to Summer in Style. Woof.
By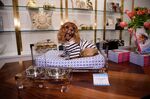 Toast is a Cavalier King Charles spaniel who was rescued from a North Carolina puppy mill in 2011 by Katie Sturino, blogger and wife of comedian Josh Ostrovsky, aka the Fat Jew. Toast quickly—in human years, at least—transcended her humble beginnings. Five years later she's internet-famous, with more than 360,000 Instagram followers. She's appeared in photos with actresses such as Jane Lynch and Reese Witherspoon; she wore more than $150,000 in diamonds to her "wedding" in January, which was sponsored by a dozen-plus high-end brands promoted on her account; and she recently released her own lifestyle book, ToastHampton: How to Summer in Style (Harper Design).
ToastHampton is as much a manual for how to leverage fame in 2016 as it is a book about a cute dog. Advertisers spend half a billion dollars a year selling products via animal influencers, says James Nord of Fur Card, an online platform that connects marketers with glam pets. Toast has promoted products for brands including Barneys and Coach. Karen Walker, a designer known for her stylish sunglasses, gave Toast her big break last summer with a photo shoot featuring a wind machine. Animals with accounts as big as Toast's can make about a thousand dollars per sponsored post; those with a few million followers can make enough money for their owners to quit their jobs. So if your supercute Pomeranian isn't earning his keep, the book might be worth the $16.99 to see what you two can aspire to.
ToastHampton is aimed mostly at stoking LOLs among the dog's existing fans—Sturino probably doesn't expect you to actually take your vacation cues from her pet. But it also aims to define Toast as a globally known aspirational figure in the mode of a Martha or a Gwyneth (is there really room for another?) who confers status on brands, as opposed to the other way around. "This is my face every morning when I wake up in the Hamptons," Toast—OK, Sturino—writes, sitting next to a cup of coffee from Tate's, a favorite bakeshop of Hamptons-goers, her pink tongue wagging in the sunshine. There's a glossy, full-page photo of her at Sant Ambroeus cafe, another local hot spot, and one of her running down porch steps in a Ralph Lauren sweater. In the back of the book, a list of "pup-approved" restaurants, stores, and tourist destinations includes—surprise!—Tate's, Sant Ambroeus, and Ralph Lauren, which, though not paid endorsements, clearly came with such perks as a wardrobe of doggie polos.
Sturino is already familiar with the very real rewards of internet fame. Ostrovsky's Instagram account, with more than 8 million followers, has helped him snag, so far, a modeling contract and a book deal; he even has a wine label called White Girl Rosé. Thankfully, Sturino is well aware of how ridiculous doggie fame is, which saves the book from being obnoxious—or, at least, totally obnoxious. In one picture, Toast poses in front of the store BookHampton and says she's always been "very into reading." A few photos later, she droops over a stack of cookbooks. "I actually can't read," she admits. It's the kind of brazen lie we don't often catch our dogs telling, and copping to it makes Toast that much more human.
Before it's here, it's on the Bloomberg Terminal.
LEARN MORE