Watly: Using the Sun to Provide Clean Water
The solar-powered machine can bring purified water (plus Wi-Fi!) to anywhere on earth.
By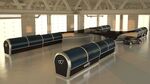 Innovator Marco Attisani
Age 44
Founder and chief executive officer of Watly, a 10-employee startup in Udine, Italy
"This is the future of water management and electricity generation," Attisani says. "It's production close to consumption."
Form and function
Watly, a 15-ton, 130-foot-long computer, uses energy from 80 solar modules to purify water, provide wireless coverage, and power or charge other devices. Its inventors say it can meet these daily needs for about 3,000 people.

Water
Watly's solar-powered pumps can draw about 1,300 gallons of dirty water a day through a tanks-and-pipes system that uses heat, graphene, and other materials to remove contaminants, normalize pH and mineral levels, and store the clean water.
Power
The machine's removable battery packs can charge 10 smartphones in about an hour. Its telecommunications gear uses satellite or carrier signals to create a high-speed Wi-Fi connection that can handle hundreds of devices at once.
Origin
Attisani, an MBA who also studied electronics, was born into poverty in Brasilia and adopted by Italians when he was 11. He started developing Watly in 2013, looking to address infrastructure problems by combining existing technology in new ways.
Funding
Watly has raised about €2 million ($2.26 million) from government grants and private investors.
Cost
Attisani says he plans to sell the first machine for €500,000 to €1 million to a telecom company or similar utility.
Backup
When it's not sunny, batteries provide three days' worth of power for Wi-Fi and charging but not enough for the water purifier.
Next Steps
Attisani says he's working to bring Watly's price down as he refines a new model, due in July. He's also working on a water purification unit that's one-tenth Watly's size, which he plans to price at €20,000 or less. Rachida Justo, an entrepreneurship professor at IE Business School in Madrid, says Watly's potential justifies the upfront cost. "I see a lot of innovation in just one machine," she says.
Before it's here, it's on the Bloomberg Terminal.
LEARN MORE