Twilio Jumps in Trading Debut After Pricing IPO Above Range
By
Only second venture capital-backed company to list in 2016

Shares prices above their marketed range, at $15 apiece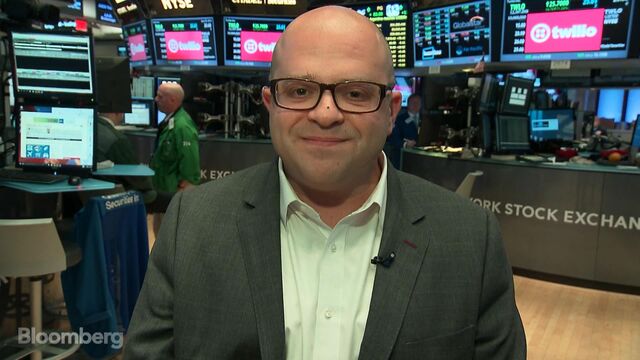 The second venture capital-backed technology company to go public this year, Twilio Inc., surged in its U.S. stock market debut.
The company's initial public offering got off to a strong start. Twilio, the maker of mobile and web applications backed by Bessemer Venture Partners, sold 10 million Class A shares for $15 apiece, more than the $12 to $14 marketed range. The stock climbed as much as 73 percent to $26 on Thursday, after opening at $23.99.
While it may not trigger a slew of new listings, other technology companies considering whether to go public are watching Twilio closely.
Much of the dearth in technology IPOs has been a supply issue: Technology companies have stayed private longer as capital has been readily available. That's also helped drive up private valuations, leaving companies hesitant to seek a listing for fear of having to accept a lower value from public market investors.
There are two factors that could help change this, said David Yuan, general partner at Technology Crossover Ventures. First, companies that do go public need to have their stocks rise after the IPO and then post strong quarterly earnings results. Second, investors need to have an increased appetite for growth.
"The market uncertainty is leading to a higher bar for execution," Yuan said via e-mail on Wednesday. Technology Crossover Ventures invests in both public and private companies -- of which 59 have gone public.
Venture Capital
Twilio and Acacia, the two tech and communications startups to go public this year, have raised just $269 million, compared with $1.4 billion in the same period last year when companies including GoDaddy Inc. and Etsy Inc. sold shares. Acacia has traded up about 70 percent since its IPO. The company is profitable, posting net income of $40.5 million last year.
The third quarter of 2016 may help tip the scales: Japanese messaging service Line Corp. is planning the biggest global technology IPO this year, seeking to raise as much as 113 billion yen ($1 billion) by listing in Tokyo and the U.S. in July.
Twilio has yet to make a profit, even with more than 28,000 active customers at the end of March including enterprise-software company Box Inc., department-store chain Nordstrom Inc. and rideshare company Uber Technologies Inc.
"This isn't necessarily the greatest product in the world but the Who's Who use it'' said Anthony Evans, director of research at Triton Research, via telephone on Wednesday. "The business model for these guys is so good that they probably will earn money one day."
Revenue Growth
Revenue grew 88 percent to $167 million in 2015, on which it posted a net loss of $36 million. In 2014, its revenue jumped 78 percent to $89 million, while net loss was $27 million. The company said it expects its revenue growth rate to decline over time. WhatsApp Inc., the messaging service owned by Facebook, accounted for 17 percent of Twilio's revenue last year.
Twilio plans to use proceeds from the offering for general corporate purposes, including investing in engineering, sales and marketing and to enhance its technology platform, according to the prospectus. Goldman Sachs Group Inc. and JPMorgan Chase & Co. led the offering.