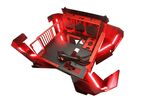 For decades, Taiwan has been the go-to place for HP, Dell, and others that need efficient production of computers and their components. But with PC sales falling worldwide, many Taiwanese companies are trying to stem their losses by appealing to one group of customers who still rely on desktops: PC gamers who want specialized, high-powered rigs. Some companies are selling models with features designed for gameplay; others are focusing on players who custom-build their PCs.
Gamers care less about price than ordinary PC buyers do. "You want to have the features, you want to have it now, you want to have it just right, and you're willing to pay for it," says Bloomberg Intelligence analyst Anand Srinivasan. Computers for gamers account for 5 percent to 8 percent of total PC shipments, Srinivasan says, but average selling prices can be two to three times higher than those for ordinary machines. PC shipments worldwide fell 10.6 percent in 2015, according to market-research firm IDC, in part because of the growing popularity of smartphones.
In Win Development, a Taiwanese producer of computer cases, is going after do-it-yourselfers. At its peak in 2008, In Win had NT$4 billion ($124 million) in revenue. Sales have dropped 47 percent since, to NT$2.1 billion in 2015. Taiwan's overall electronics exports were $95.5 million in 2015, a 4.5 percent drop from 2014. Chairman Vincent Lai started preparing to target gamers in 2012, telling his designers to come up with something that didn't look like a PC.

The In Win H-Frame 2.0 chassis, which accommodates a range of components, has tempered glass and nine stacked aluminum sheets, illuminated by LED lights, allowing air to pass through the case. The H-Tower case, which opens and closes via a button or an app, sells for $2,400. "Players want their hardware to be cool," says Lai, who hopes the new gear will help the company reverse its slide. In Win is one of several Taiwanese electronics makers that sponsor competitions for "case modders," PC fans who modify their computers.
Other Taiwan manufacturers are selling PCs for gamers who don't want to build their own. Gigabyte Technology, a leading maker of components, including motherboards and keyboards, launched its Aorus line of high-powered PCs in 2014. The Aorus X7 Pro laptop, with two graphics cards that help make the virtual-reality experience faster, sells for about $2,500. Acer boasts that its $1,700 Predator G6 gaming desktop has an "armor-like shell crafted to look the part of an unstoppable fighting machine." Asustek Computer introduced its Republic of Gamers line of desktops, laptops, and peripherals 10 years ago. It rolled out a gaming monitor in May that it claims is 20 percent faster than other models.
"A lot of hard-core gamers are opinion leaders in terms of technology," says Jackie Hsu, vice president in charge of Asustek's ROG line. "If they have enjoyed your machine, when their friends are consulting with them they'll recommend your product." So far, though, the industry continues to shrink. IDC expects the PC market to contract an additional 7.3 percent this year. There's a limit to what cool hardware can do, says Bryan Ma, an IDC analyst in Singapore. "Virtual reality and gaming is still a very small part of the market," he says.
The bottom line: Taiwanese PC companies roll out high-priced gear for gamers to turn around falling computer sales.
Before it's here, it's on the Bloomberg Terminal.
LEARN MORE