Yen Surges Past 100 Per Dollar as U.K. Vote Spurs Rush to Safety
by and
Currency surges 18% versus pound as Britons choose Brexit

Strength undermines stimulus program for reviving economy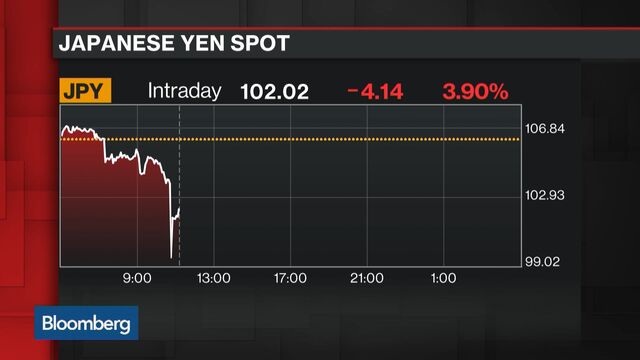 The yen soared past a milestone versus the U.S. dollar for the first time since November 2013 as Britons' vote to quit the European Union spurred demand for this year's best-performing major currency as a haven.
Japan's currency strengthened as much as 7.2 percent to 99.02 per dollar, climbing against all 16 of its major peers. Investors and analysts have said a move below 100 would put pressure on Japanese authorities to intervene to weaken the currency as its advance in 2016 threatens to unwind much of the impact of the Bank of Japan's record monetary easing.
The central bank's stimulus has been a key part of Prime Minister Shinzo Abe's so-called three arrows aimed at reviving his nation's economy after more than a decade of deflation.

"All hell is breaking loose," said Vishnu Varathan, a senior economist in Singapore at Mizuho Bank Ltd. "The only surefire is you buy yen, you buy U.S. Treasuries, you buy gold, and you sit tight."
To see the latest vote count, click here.
For a story on increased stresses in funding markets, see here.
The yen appreciated 3.1 percent to 102.97 per dollar as of 10:12 a.m. in London. It gained as much as 18 percent against the U.K. currency, the most since at least 1971, to touch 133.31 per pound.
After four consecutive years of declines, the yen has advanced 17 percent this year against the greenback in the best performance among developed nations, amid concern a Brexit would drag down already-tepid global growth. The yen gained at the start of the year on speculation China and the U.S. -- the world's largest two economies -- will struggle to overcome headwinds.
Powered by unprecedented central-bank easing, the yen reached a 13-year low of 125.86 to the dollar in June of last year. Its strength since then comes despite BOJ Governor Haruhiko Kuroda and his board's surprise introduction of a negative deposit rate in January.
Bloomberg View columnist Mohamed El-Erian has called the exchange rate "a total nightmare" for BOJ policy makers, and is "too strong" for the world's third-largest economy.
For more on the turmoil in markets today, click here.
The BOJ stands ready to provide sufficient liquidity, including using swap arrangements among six central banks, to ensure the stability of financial markets, Kuroda said in a statement Friday.
Stimulus Pressure
Some analysts had speculated the BOJ will be under increased pressure to add to stimulus should Britain leave the EU. The inflation index that serves as the benchmark for progress toward Kuroda's 2 percent inflation goal fell 0.3 percent in April for a second month, after stagnating since the start of 2015.
Kuroda said June 16, after leaving policy settings unchanged for a third meeting, that the U.K. referendum was "making international financial markets somewhat unstable," and he will carefully monitor the impact of the vote. He reiterated the central bank won't hesitate to add to stimulus if necessary, while declining to comment on the potential for an unscheduled policy meeting.
Abrupt Moves
The yen has also resisted efforts by Japanese government officials to talk it lower. Finance Minister Taro Aso said June 17 he wants "to coordinate closely with other nations to deal with" abrupt moves in the yen, while adding earlier this week that Japan won't intervene without due consideration. He said Friday appropriate measures can be taken in foreign-exchange markets if needed and Group-of-Seven nations have currency swap agreements that can be used if required. He declined to comment on whether there had been intervention by authorities.
The Ministry of Finance views unilateral intervention as an unlikely tool in the event of a surge in the yen should the U.K. vote to leave the EU, according to people familiar with the matter, Bloomberg reported earlier this week.
The yen "is reacting as a risk-off currency" as uncertainty triggered by the U.K.'s decision is at "its highest point,"said Michael Sneyd, a London-based currency strategist at BNP Paribas. "Over the next week we'll probably see this declining as there's more clarity on how the negotiations are likely to proceed."
Before it's here, it's on the Bloomberg Terminal.
LEARN MORE