Ryan Decries Democratic 'Publicity Stunt,' Rejects Gun Votes
By and
House speaker says Democrats are setting a dangerous precedent

Democrats held floor for more than 24 hours to demand votes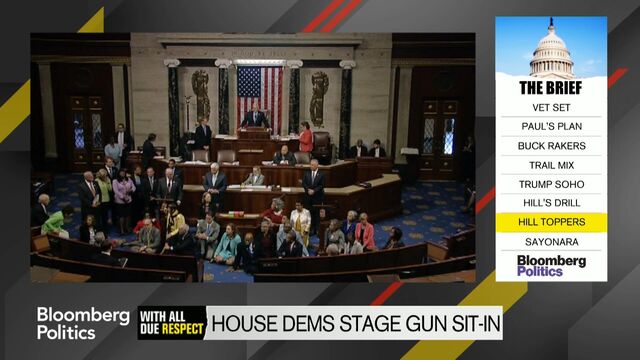 U.S. House Speaker Paul Ryan said Thursday that the day-long Democratic sit-in over gun curbs wouldn't change how Republicans run the House, dismissing it as a "publicity stunt" that risks setting a dangerous precedent for American democracy.
Ryan made clear that he would not relent on Democratic demands and give them votes on the gun proposals they sought, saying Democrats were exploiting the issue for fundraising purposes and that there is a well-established process for considering legislation. 
"We do so within the bounds of order and respect for the system," Ryan told reporters. "Otherwise, it all falls apart."
Ryan hastily adjourned the House for a week-long recess after 3 a.m. Thursday morning, nearly 16 hours after Democrats rebelled over a lack of action on gun-control legislation by staging a 1960s-style sit-in on the House floor. The protest continued before a largely empty chamber, with Democrats passing the 24-hour mark late Thursday morning.
Ryan said Republican leaders are looking at all options to decide how to prevent Democrats from shutting down House business and bringing some "order out of this chaos. "
"This is not a proud moment for democracy or the people who started these protests," he said, adding that leaders were "reviewing everything" to see if any penalties were warranted for the sit-in.
Ongoing Action
House Democrats are demanding votes on legislation establishing background checks on gun sales, and a ban on firearms sales to those on the government's "no-fly" list of suspected terrorists. Both are long-gridlocked measures they say could gain traction in the wake of this month's mass shooting at an Orlando gay nightclub that left 49 dead.
"We will continue to shed a bright light on the urgency of stopping this carnage," Democratic leader Nancy Pelosi, of California, said Thursday morning. She vowed to keep up the protest throughout the recess, which ends July 5. "We will not stop until we pass that legislation."
The Senate this week is negotiating over its own compromise proposal aimed at keeping guns out of the hands of suspected terrorists as it debates a spending bill that includes funding for the Justice Department. Four other gun-related amendments were defeated on the Senate floor Monday.
Early Thursday morning, Ryan quickly pushed through the House a top legislative priority, a spending bill that includes funding to combat the Zika virus. Yet the rebellion by Democrats took the spotlight off that vote, as well as Ryan's ongoing effort to roll out a six-part election-year agenda that Republicans in the chamber can campaign on this fall. 
Ryan on Wednesday released a long-awaited Republican alternative plan to Obamacare, just as the protest was getting underway, and on Friday will detail a set of changes to the U.S. tax code, which hasn't been overhauled in 15 years.
'Out of Touch'
Representative Debbie Wasserman Schultz of Florida, who also serves as head of the national Democratic party, took on Ryan for suggesting the protest is a fundraising gimmick.
"It shows how warped are. What this is about is that the Republican majority cares more about holding onto power than they do about doing the right thing," she said.
Democrats said Ryan's effort to talk about his own agenda, instead of more immediate concerns, is increasingly awkward.
"It's so out of touch for him to talk about his political program to help himself in the campaign when the American people are still struggling to come to terms with a horrible attack that was the worst mass shooting in our history," Representative Ted Deutch, a Florida Democrat, said today as he rotated out of a stint in the protest on the House floor. "They want Congress to take some action on their behalf and he's completely turned the other way."
Representative Chris Van Hollen, a Maryland Democrat, said the public can see how Ryan refused to simply hold two 15-minute votes Thursday morning on the two gun-control measures, even as the House considered unrelated legislation in the dead of night.
"It sends a terrible signal to the American public," Van Hollen said. "They're shutting down early, running out of town in the middle of the night, canceling two work days in Congress because they didn't have the courage to put these common-sense gun measures up for a vote."
Next Steps
Both Deutch and Van Hollen said they expect Democrats will return to their districts eventually during the break, although no formal decision has been made about how to proceed.
The spontaneous protest began shortly before noon Wednesday. Dozens of lawmakers were joined by a parade of Senate Democrats to demand action to keep guns out of the hands of suspected terrorists following the Orlando shooting.
As the night wore on, the scene on the floor became heated after Republican Louie Gohmert of Texas confronted Democrat Brad Sherman of California, who was speaking at the time. Gesturing toward Democrats, Gohmert yelled, "Radical Islam killed these people!"
On the Senate side, negotiations continued over a compromise proposal by Republican Susan Collins of Maine that would ban people on the "no-fly" list, as well as another narrow list of terrorist suspects, from purchasing firearms.
John Cornyn of Texas, the No. 2 Senate Republican, told reporters Wednesday that he is "optimistic" that he and Collins will be able to work out a deal on a gun measure that would unify the Senate, with a vote still possible this week.
But House Republican leaders have made no commitment to hold a vote on Democratic gun measures in their chamber.
Before it's here, it's on the Bloomberg Terminal.
LEARN MORE