Pound Plunges to 30-Year Low as U.K. Stocks Slide on Brexit
by and
Sterling slumps below $1.35, weakening as much as 11%

'There are certain days you never forget,' says HSBC's Bloom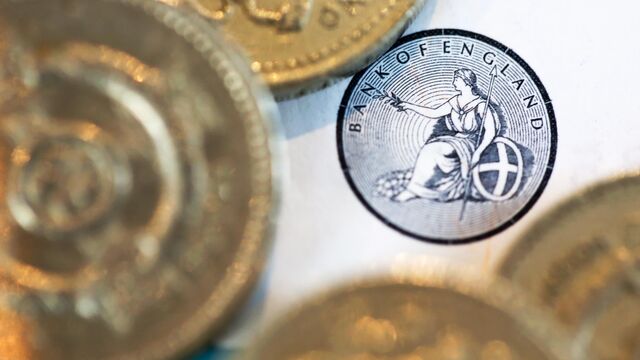 The pound made history, plunging with U.K. stocks after the nation voted for a Brexit.
QuickTake Why Britain Voted to Leave the E.U.
Sterling slid by the most on record against the dollar, reaching its weakest level since 1985, as the nation opted to quit the European Union after more than four decades. U.K. stocks tumbled, with banking stocks losing as much as 32 percent. The final tally, announced just after 7 a.m. London time, showed voters had backed "Leave" by 52 percent to 48 percent. Prime Minister David Cameron said he would step down.

The 8.4 percent plunge by 5 p.m. London time was its worst day on record, exceeding the 4.1 percent drop on 1992's Black Wednesday, when the pound was forced out of Europe's exchange-rate mechanism -- the previous biggest daily drop. Sterling slumped to its weakest level in more than two years versus the euro, and a gauge of anticipated swings versus the dollar over the next month surged to a record.
"It's a huge shock which is having global ramifications across all asset classes," said Lee Hardman, a foreign-exchange strategist at Bank of Tokyo-Mitsubishi UFJ Ltd. in London. "This is still the early stage and it could obviously continue to morph into something even more extreme. That will be the primary concern."
U.K. government bonds jumped on speculation the Bank of England will maintain an easy monetary policy stance to ward off the risk of recession.
Pound Slides
Sterling earlier reached $1.3229, the lowest since 1985. The U.K. currency weakened 6.2 percent to 81.27 pence per euro, for the biggest decline on record.
The pound swung in a wider range versus the dollar on Friday than it did through all of last year.
Bloomberg's British Pound Index, which tracks sterling against seven major peers, fell 8 percent, while the FTSE 100 Index of shares slumped 3.2 percent. Bank stocks slid across Europe, with Royal Bank of Scotland Group Plc, Deutsche Bank AG, Credit Suisse Group AG and Barclays Plc among the biggest losers.
"There are certain days you never forget and this will be one of them," said David Bloom, London-based head of global currency strategy at HSBC Holdings Plc. "Everyone is all over the place, it's been a roller coaster."
---

For full coverage of the referendum, click here
---
Volatile Currency
The pound has fluctuated vigorously since the start of the campaign in February, acting as a barometer for sentiment and reflecting the side of the debate in the lead. Swings since polls have closed has been even more dramatic. The currency had climbed above $1.50 for the first time since December earlier after a nationwide YouGov Plc survey conducted on the day of the vote showed a 52 percent share for the status quo.
The referendum has resonated across the globe with officials in finance and central bankers warning of risks should Britain vote to remove itself from the EU. Federal Reserve Chair Janet Yellen said last week that the vote was a factor considered by officials as they decided to keep U.S. interest rates unchanged this month.
One-month implied volatility for the pound versus the dollar, a measure of price swings based on options, jumped to as high as 32.1 percent, the most since Bloomberg started tracking the data in 1996.
Trading volumes surged. A record 504,320 British pound futures contracts traded on the CME Group Inc.'s exchange as of 5:20 p.m. in New York, up 47 percent from the previous high in 2014, according to preliminary data on CME's website. JPMorgan Chase & Co.'s currency-trading volumes were expected to reach three times their normal daily volume, Chief Executive Officer Jamie Dimon wrote Friday in a memo to staff.
Friday's price moves are in line with what economists predicted in the case of a Brexit in a Bloomberg survey earlier this month. In that poll, most saw the pound plunging below $1.35 the day after the vote. While a weaker pound may boost exporters, it could increase prices for U.K. consumers, and complicate the Bank of England's efforts to meet its inflation remit.
"The U.K. is heading for an exit, and therefore currency markets are happy to trade sterling lower," said David Page, a senior economist at AXA Investment Managers in London, which manages 666 billion euros ($740.39 billion).
Before it's here, it's on the Bloomberg Terminal.
LEARN MORE