Norway Backtracks on Zero Rate Outlook as Oil Crisis Abates
By
Bank lifts rate outlook, still sees one more rate cut in 2016

Bank sees economy growing 0.8% in 2016, unchanged from earlier
Norway's central bank signaled it intends to deliver less monetary stimulus in the future despite gains in the currency as a recovery in oil prices helps western Europe's biggest petroleum producer.
The bank left its main rate at 0.50 percent, as forecast by 14 of 15 analysts surveyed by Bloomberg. It raised its outlook for future interest rates, but said there's still a chance it may need to cut one more time this year. The krone appreciated as much as 0.4 percent against the euro.
"There are still prospects that the key policy rate may be reduced in the course of the year," Governor Oeystein Olsen said in a statement.
Norway, while battered by the collapse in oil prices, has managed to avoid the negative rates and unconventional polices that dominate elsewhere. The government is spending a record amount of its petroleum wealth which, combined with successive rate cuts over past years, has supported the economy.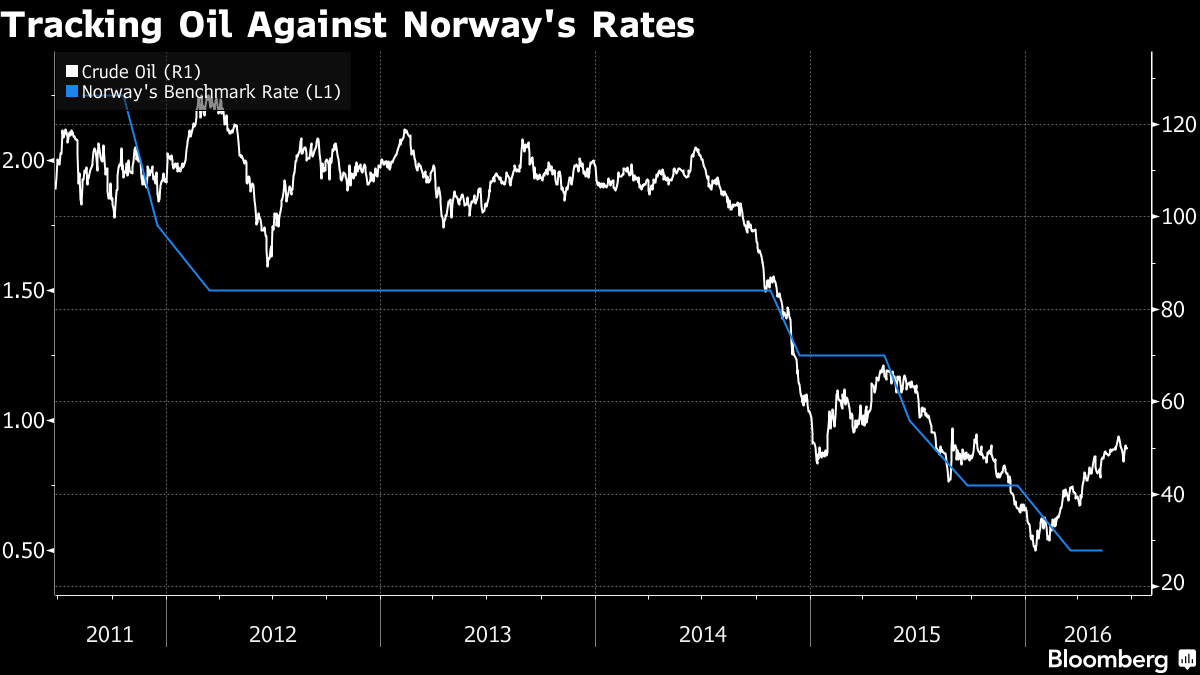 Key indicators are signaling the worst may be over for Norway's economy, which has lost thousands of oil industry jobs. A report on Wednesday showed unemployment held at 4.6 percent in April, beating an estimate for 4.7 percent. A survey from the central bank earlier this month suggested companies are becoming more positive in their outlook for production.
In an interview on Wednesday, Prime Minister Erna Solberg said the economy is "showing some positive signs and that unemployment is going down slightly" while warning that the "developments are fragile."
Rising along with the oil price, the krone has strengthened by about 3 percent on a trade-weighted basis since January. The central bank said the currency "has been stronger than anticipated" since its March report. Brent crude has gained 80 percent since January, though still at a level where big new offshore investments are hard to justify.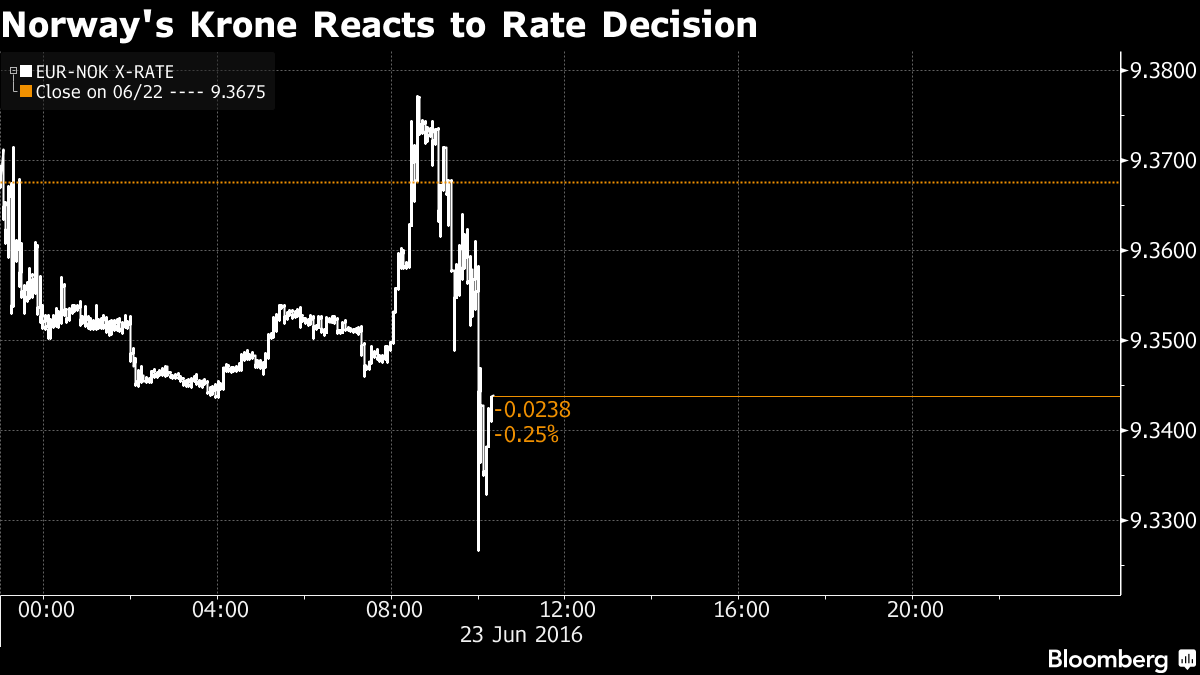 The bank kept its forecast for mainland economic growth at 0.8 percent for 2016 and lowered its outlook for 2017 to 1.6 percent from 1.8 percent.
"Growth in the Norwegian economy is likely to remain weak in the coming period, even though the upswing in oil prices may reduce uncertainty and push up demand somewhat," it said. "Should the rapid rise in house prices persist, household vulnerabilities may increase. Inflation has for a period been higher than 2.5 percent, but lower wage growth and a somewhat stronger krone will weigh down on inflation ahead."