Adelson Wants Las Vegas to Ante Up for an NFL Team
by and
Proposal calls for $750 million from hotel tax for stadium

Record subsidy aimed at spurring move by the Oakland Raiders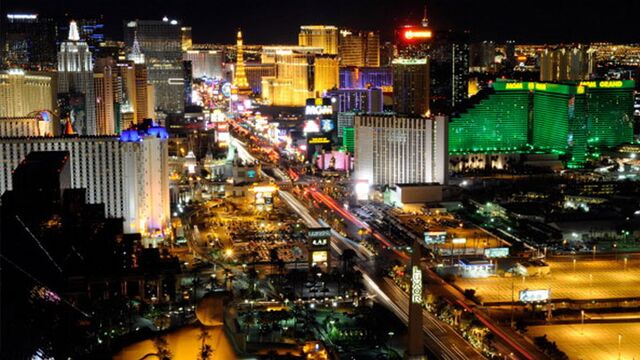 Billionaire Sheldon Adelson wants Las Vegas to ante up the biggest subsidy in professional football history to lure the Oakland Raiders to the gambling mecca. 
The chief executive of Las Vegas Sands Corp., the world's largest casino company, teamed up with developer Majestic Realty Co. to propose a 65,000-seat domed stadium for the National Football League team. A committee of government leaders and casino executives met Thursday to review the plan, which would raise $750 million for the coliseum with a new tax on hotel stays.

The proposed record-setting payout stands in contrast to some other cities that have reconsidered subsidies for sports franchises. The St. Louis Rams are moving to a Los Angeles suburb, even though the team's hometown offered more for it to stay, and Seattle has rejected public support for an arena that would bring basketball back. Oakland has drawn a line against using taxpayer money for a new football stadium despite the risk of losing the team.
"The NFL is sending a signal that it wants more support from the cities," said Andrew Zimbalist, a sports economist at Smith College in Northampton, Massachusetts. "Owners want to signal that they're not going to keep sitting around for 15 or 20 years while cities twiddle their thumbs."
Nevada Governor Brian Sandoval's top economic adviser suggested scaling back the public contribution to $500 million while increasing the private-sector share to $900 million. Steve Hill, who heads Sandoval's office of economic development, introduced the rival plan at Thursday's meeting of the Southern Nevada Tourism Infrastructure Committee, said Jennifer Cooper, his spokeswoman. Hill's proposal could come up for a vote July 11, she said.
In Las Vegas, the idea of taxing tourists for a football stadium hasn't drawn widespread opposition so far, though leaders of the tourism authority and some hotel-casinos expressed concern it could jeopardize a push to raise the room tax to renovate the 57-year-old convention center.
Under the original stadium proposal, an authority would sell $750 million of municipal bonds. The securities would be paid off by a new 0.9 percent tax on hotel rooms, about $1.08 per night, according to a May 26 presentation to the committee.
That would be the largest subsidy ever for an NFL stadium, exceeding the $620 million for the Lucas Oil Stadium in Indianapolis, according to a report by the Taxpayers Protection Alliance, which opposes using public funds for private sports facilities. The Raiders would contribute $500 million and private investors, including Sands and Majestic, would provide as much as $540 million, according to the May proposal.

Any new tax would require approval by the state legislature and Sandoval, a Republican.
Adelson, who built a $23.6 billion fortune running casinos, last year bought the Las Vegas Review-Journal, one of the city's daily newspapers. In March, the paper wrote in an editorial that a new stadium is "one piece of tourism infrastructure" that is missing from the Las Vegas strip. The paper disclosed that its owner is also behind the company promoting the stadium.
Sands spokeswoman Kristin McLarty declined to comment, as did Marty Schechter of Schechter Public Relations, the firm representing Majestic Realty. Raiders spokesman Will Kiss did not respond to an e-mail seeking comment from owner Mark Davis.
Backers say the NFL's arrival would be a boon to Las Vegas, which is rated AA, the third highest grade, by S&P Global Ratings. Their projections show it would generate $870 million a year in new spending and create 8,000 new jobs in Clark County, home to the city and its suburbs. But some economists are skeptical that such subsidies provide benefits sufficient to justify the cost.
"Cities are often wildly optimistic about the amount of new revenue pro sports teams will generate," said Victor Matheson, sports economist at College of the Holy Cross in Worcester, Massachusetts. "I have never seen a city spending money on an NFL team make up its investment. In Las Vegas you're just going to be filling up a hotel that was going to be full anyway."
The NFL would consider gambling as a factor when deciding whether to allow the Raiders to relocate to Las Vegas, spokesman Brian McCarthy said. He e-mailed a statement from Commissioner Roger Goodell noting that Davis has not formally sought the league's approval to move.
"All of those things are an ownership decision and until we have more information it's just pure speculation," he said.
Such approval wouldn't be unprecedented: On Wednesday, the National Hockey League voted to add a franchise in Las Vegas, giving the city its first major league team.
Oakland, meanwhile, is trying to keep the Raiders.
Mayor Libby Schaaf said in a statement that she's been talking with investors including Hall of Famer Ronnie Lott about building a new stadium to replace the Oakland-Alameda County Coliseum, which opened in 1966. Oakland won't subsidize the cost, said Erica Terry Derryck, a spokeswoman for Schaaf. Jeff Sperbeck, a spokesman for Lott's investment group, declined to comment.
"I don't think they're going to be able to squeeze anything out of Oakland," said Roger Noll, Stanford University professor of economics emeritus.
Before it's here, it's on the Bloomberg Terminal.
LEARN MORE