Jobless Claims in U.S. Declined More Than Forecast Last Week
by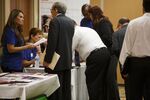 Fewer Americans than forecast filed for unemployment benefits last week, adding to evidence that the labor market is healthy and stable.
Jobless claims dropped by 18,000 to 259,000 in the period ended June 18, a Labor Department report showed Thursday. It was the biggest decrease since the first week of February. The median forecast in a Bloomberg survey called for a decline to 270,000.

Hiring managers are finding little reason to pare staff amid a dwindling pool of available workers. Sustained low levels of jobless claims have helped to reassure Federal Reserve policy makers that the recent slowdown in payroll gains will dissipate.
"This data continue to point to a labor market that continues to be pretty solid," said Ward McCarthy, chief financial economist at Jefferies LLC in New York. "The weekly labor market data right now isn't really fitting with the monthly labor market data, but I expect that over the next few months we'll see a return to trend" in payrolls.
Estimates in the Bloomberg survey ranged from 260,000 to 280,000. Claims in the prior week were unrevised at 277,000.
Filings have been below 300,000 for 68 straight weeks -- the longest stretch since 1973 and a level economists say is typically consistent with a healthy labor market.
No states were estimated in the latest week and there was nothing unusual in the data, according to the Labor Department. While the figures were helped by a 9,126 unadjusted decline in California, most states had fewer filings, including New York, Pennsylvania, Georgia, Illinois and Ohio.
Survey Week
The four-week average of claims, a less-volatile measure than the weekly figure, fell to 267,000 from 269,250 in the prior week. Last week included the 12th of the month, which coincides with the period the Labor Department surveys employers to calculate monthly payroll data. The average is lower than the 278,000 during the comparable period in May.
The number of people continuing to receive jobless benefits decreased by 20,000 to 2.14 million in the week ended June 11. The unemployment rate among people eligible for benefits held at 1.6 percent. These data are reported with a one-week lag.
Low levels of initial claims reflect weekly firings and typically portend strong job growth.
The unexpectedly weak change in May employment -- payrolls rose by just 38,000 after a downwardly revised 123,000 in April -- has helped to moderate Fed Chair Janet Yellen's assessment of the economic outlook.
Yellen offered a subtle change in her language earlier this week in testimony before the Senate Banking Committee, saying officials would judge "whether the labor market will strengthen further," rather than when, in determining changes to the federal funds rate.
At the same time, she said, "it is important not to overreact to one or two reports, and several other timely indicators of labor market conditions still look favorable."
Before it's here, it's on the Bloomberg Terminal.
LEARN MORE