India's Central Banker Heads Back to Chicago
With Raghuram Rajan gone, investors worry reform will suffer.
By , , , and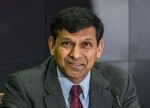 Raghuram Rajan said on June 18 he'll return to the University of Chicago Booth School of Business when his three-year term as governor of the Reserve Bank of India (RBI) expires on Sept. 4. Prime Minister Narendra Modi had failed to defend Rajan strongly when an influential member of Modi's party said Rajan was "willfully and deliberately wrecking the Indian economy" and was "mentally not fully Indian."
Rajan raised interest rates three times after being appointed by the previous government in 2013. As inflation eased, he cut rates more slowly than some in Modi's party wanted. Investors are nervous that India's next central banker won't press as hard as Rajan to cut inflation and force banks to clean up their bad loans. "The fact that political pressures may have contributed to his departure" clouds the outlook, Deepali Bhargava, an economist at Credit Suisse, wrote to clients.
Modi's government sent investors mixed signals in the days after Rajan's announcement. Trying to show policymakers were still pro-reform, the government said it would allow 100 percent foreign investment in sectors from local airlines to cable-TV providers. The announcement gave some support to the rupee, which slipped to a one-month low on June 20.
On fighting inflation and fixing the banks, the government hinted that Rajan had gone too far. A senior government official told reporters that the high rates Rajan has used to fight inflation, while appealing to foreigners, were hurting domestic industry. The government also suggested the RBI's own capital could be used to bolster state-owned banks grappling with nonperforming loans, according to a document obtained by Bloomberg on June 20. Tapping the RBI's capital might jeopardize its independence. Alpana Killawala, a spokeswoman for the RBI, didn't respond to an e-mail.
Arvind Subramanian, chief economic adviser to the Ministry of Finance, is Rajan's most likely successor, according to a survey of economists by Bloomberg. He is less hawkish on reducing inflation than Rajan. But his candidacy could be jeopardized by his close ties to the U.S. In 2013 he told Congress that the U.S. should address Indian policies that are "demonstrably protectionist."
"The real hard work starts now" on the inflation front, says Sonal Varma, an economist at Nomura Holdings in Singapore, citing a looming pay raise for civil servants and rising fuel prices. As for the banks, wrote Ben You Ang and David Marshall, analysts at research firm CreditSights: "The departure of Mr. Rajan as head of the RBI will inevitably be seen as a blow to the reform of the sector."
The bottom line: Rajan used high interest rates to squeeze inflation out of India, but some politicians think the rates were too high.
Before it's here, it's on the Bloomberg Terminal.
LEARN MORE