Gold Rises Most Since 2008 Crisis as Investors Seek Brexit Haven
By , , and
Pound tumbles and equities drop after U.K. votes to leave EU

'The phone's been off the hook all night,' says TF Global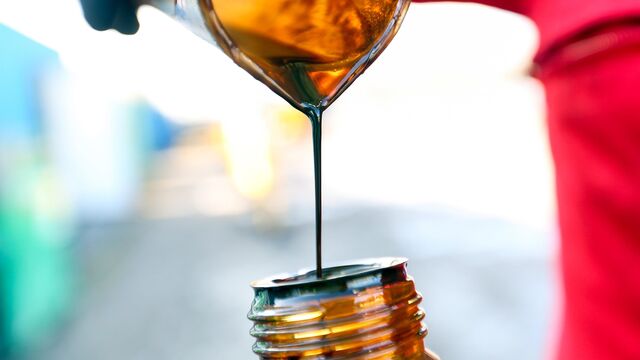 Gold surged the most since the height of the 2008 global financial crisis after the U.K. voted to exit the European Union, causing turmoil across markets and boosting haven demand.
QuickTake Gold's Ups and Downs
Bullion jumped as much as 8.1 percent and futures trading volume was double the average for this time of day. As the pound tumbled against the dollar, gold priced in sterling rose 14 percent after rallying as much as 19 percent. Mining companies such as Barrick Gold Corp. and Newmont Mining Corp. advanced.
"We're still seeing strong volumes across the precious metals space, which should be expected based on risk-off positioning" by investors, Maxwell Gold, a director of investment strategy at ETF Securities, which sells exchange traded funds backed by gold and other precious metals. "Global focus should reshift back more towards the longer-term impact from the Brexit and how this might potentially delay the Fed" from raising interest rates, he said.
'Unmatched' Volume
Some clients were frustrated that they couldn't get orders completed quick enough as trades kept being upended by other large positions coming in, Naeem Aslam, chief market analyst at London brokerage TF Global Markets said, as he stepped out of the office for a coffee after working overnight. He said he's planning to work over the weekend to meet the surge in business.
"The volume we saw last night was unmatched by anything, and we're nowhere near done," Aslam said. "The phone's been off the hook all night. We were around the news wires nonstop."
U.K. voters backed leaving the EU by 52 percent to 48 percent, sending shock waves though markets and prompting Prime Minister David Cameron to resign. Global stocks slid, the pound plunged by a record and the euro weakened.

Gold for immediate delivery climbed 4.9 percent to $1,317.94 an ounce, after touching $1,358.54, the highest since March 2014. Societe Generale SA had said that gold could reach $1,400 in the event of a Brexit.
'Lot of Fragility'
The metal is up 24 percent this year as expectations that the Federal Reserve will keep interest rates low weakened the dollar. The U.S. central bank will be even more likely to keep rates on hold following the result of the U.K. referendum, according to Saxo Bank A/S and ICBC Standard Bank Plc.
European gold dealers saw a rush for physical metal, with CoinInvest.com saying it had a record number of U.K. customers interested in buying. Daniel Marburger, a director at the Frankfurt-based firm, said Britannia and Sovereign coins from the U.K.'s Royal Mint were the best sellers in the early hours. ABC Bullion Co., a Sydney-based trader, said new account openings on Friday matched the whole of a normal week.
"There's a lot of fragility out there politically and economically," said Jordan Eliseo, chief economist at ABC Bullion. "It's a more difficult time for investors and safe-haven assets are the way to go."
Haven Demand
GoldCore Ltd., a brokerage in Dublin, experienced record online sales for the time of day and may have to restrict trading to existing clients if demand remains high, director Mark O'Byrne said by e-mail.
Barrick, the world's largest gold producer, rose as much as 12 percent in Toronto, the most since November 2008, before paring gains to 7.9 percent. Newmont climbed as much as 9.3 percent in New York and was the best performer on the S&P 500 Index.
In other precious-metals news:
Spot silver rose 2.6 percent to $17.7356 an ounce, after touching the highest since January 2015.
Spot platinum rose 2 percent and palladium declined 3.2 percent.