Get Ready for a Big Swing in Implied Volatility
The extremely large gap between the VIX index and realized volatility won't persist.
By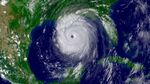 Amid a period of unusual market calm, traders in the U.S. are preparing for a typhoon from across the Atlantic.

The one-month realized volatility of the S&P 500 Index stands at just 6.5 percent, its lowest level since 2014, while the CBOE Volatility Index (commonly known as the VIX) closed near 21.2 on Wednesday. Yet, "implied volatility is extremely high when you consider how little the market has actually been moving," writes Pravit Chintawongvanich, head derivatives strategist at Macro Risk Advisors.