Germany to Brits: '66 World Cup Goal Was Valid If You Stay in EU
by
Bild vows to accept contested goal that decided final match

"We will stop making jokes about Prince Charles's ears"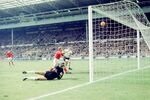 For five decades, Germany and England have been at odds over the crucial goal in the 1966 soccer World Cup final; Germans say it never crossed the goal line, Brits say it did. Bild, Germany's top-selling newspaper, has an offer for Britain as the country votes on its membership in the European Union: Choose to remain, and Germany will accept that the goal was valid.
"Dear Brits, if you stay in the EU, we'll even acknowledge the Wembley goal," Bild wrote on its front page Thursday, in a nod to Sir Geoff Hurst's extra-time goal at London's Wembley stadium that gave England its first--and only--World Cup trophy.
The soccer pledge is one of 11 promises Bild is making to persuade Britain to stay in the EU. The paper says Germans will no longer make fun of Prince Charles's ears, they'll provide unlimited bad guys for James Bond movies, and--important for British sun worshipers on holiday in Spain or Greece--will use their beach towels to reserve poolside lounge chairs for Brits.
The pro-"remain" sentiment of the tongue-in-cheek story fits squarely with the mood in Germany as Britain goes to the polls Thursday. Der Spiegel this month published a special edition adorned with an image of the Union Jack and the plea "Bitte geht nicht!," alongside the English translation, "Please don't go!" 
Berliner Zeitung echoed Thelma Houston's 1977 disco hit on its front page Thursday with a photo of a Union Jack balloon and the caption "Don't leave us this way!" Tagesspiegel, a Berlin daily, led with a picture of a kissing couple, their faces painted with the EU and British flags, and the English headline "Love or Leave."
Bild's soccer promise comes as the two countries could soon face off again in international competition. Both England and Germany have reached the knockout stage of the European championship in France and assuming both advance, they could meet in the semi-finals. If that match were decided by penalty kicks, England may want to call in another of Bild's promises: "We will drop our goalkeeper for the next penalty decision, for more excitement!"
Before it's here, it's on the Bloomberg Terminal.
LEARN MORE