Brexit Looms Over Europe as Growth, Inflation Remain Elusive
by
Composite PMI falls to 52.8, driven by slowdown in services

Firms express concern about uncertainty ahead of Brexit vote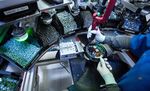 Growth in the euro area's private sector slowed more than economists predicted in June, with firms expressing concerns about uncertainty ahead of the U.K.'s vote on its European Union membership.
A Purchasing Managers' Index for manufacturing and services fell to 52.8 from 53.1 in May, London-based Markit Economics said on Thursday. The decline to the lowest level since January last year was driven by a slowdown in services activity. Business expectations in that sector slipped to the weakest in almost a year.
"Rising political uncertainty appears to have caused the pace of expansion to weaken slightly and business confidence about the outlook to deteriorate," said Chris Williamson, chief economist at Markit. "June's survey data point to steady though disappointingly lackluster economic growth."
Markit's survey suggests euro-area expansion slowed to around 0.3 percent in the second quarter from 0.6 percent in the first three months of the year.
Close Call
Companies across the 19-nation euro area are bracing for the outcome of a British referendum that remains too close to call. A decision to leave the EU could send shockwaves through the continent at a time when European Central Bank officials warn that their scope for reviving growth and inflation is limited without the help of governments.
The ECB is starting a lending program known as TLTRO-II this week, allowing banks to borrow money for four years at an interest rate that begins at zero and could ultimately be negative. Greek institutions will also have access to the funds after the ECB decided on Wednesday to reinstate a waiver on the country's junk-rated debt. Economists predict the region's banks will take 420 billion euros in the first of four loan offers, according to a Bloomberg survey.
Markit said backlogs of work rose to their highest level in nine months, leading firms to add staff at the fastest rate this year.
"The good news is that demand is growing at a sufficiently strong pace to sustain reasonably robust hiring, but it's not strong enough to generate inflationary pressures," Williamson said. "Firms are having to soak up higher costs, notably for fuel and labor, but cut their own selling prices amid intense competition."
The ECB has deployed unprecedented stimulus to bring inflation back in line with its goal of just under 2 percent, including large-scale asset purchases, negative interest rates, and long-term loans to banks. Consumer prices fell an annual 0.1 percent in May.
Before it's here, it's on the Bloomberg Terminal.
LEARN MORE