Bill Gross Jumps On Argentina Bandwagon
by and
Country's notes are among top 10 holdings in Gross's fund

Argentina is the only sovereign debt investment on the list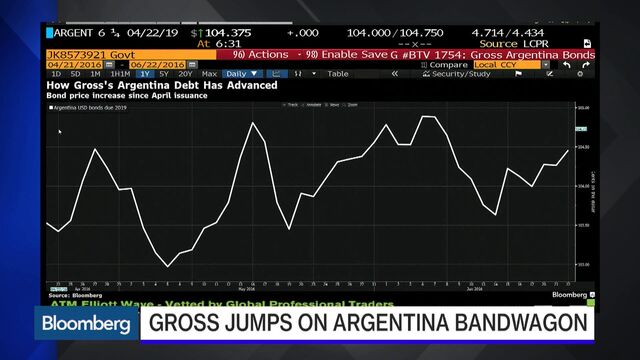 Bill Gross has become the latest investor to bet big on Argentina after the nation ended its decade-long debt dispute with hedge-fund manager Paul Singer.
Argentina's bonds emerged as one of the top 10 holdings in Gross's $1.44 billion Janus Global Unconstrained Bond Fund in May. No other country's government debt made the cut, not even his long-time emerging-market favorites, Mexico and Brazil. The investment comes at a time when Argentine debt is posting the second-biggest returns in emerging markets over the past year.

The Argentina bet "makes sense," said Edgardo Sternberg, a money manager at Boston-based Loomis Sayles, which oversees $229 billion in bonds including Argentine sovereign debt. "I see it, individually, as a big potential from an emerging-markets perspective."
While Gross today manages just a fraction of the billions he oversaw in his heyday atop the world's biggest bond fund, his proclamations and investment decisions are still watched closely by traders across the globe. The 72-year-old money manager's move reflects the new-found appetite for Argentina's financial assets since President Mauricio Macri took office. Not only has Macri settled with disgruntled creditors and pulled Argentina out of default, he's also lifted most currency controls and pushed forward a raft of measures to bolster the economy. In April, Argentina raised a record $16.5 billion selling bonds, which marked its return to overseas markets after defaulting in 2001.
For a QuickTake explainer on Argentina's financial history, click here.
The investment is also a dramatic shift for Gross, who in December lumped Argentina with Venezuela and Zimbabwe as countries where inflation has soared due to a loss of confidence in their currencies.
Filings data from Janus suggest that Gross's investments in Argentina are recent. At the end of the first quarter, Gross's fund didn't own any of the nation's debt. The securities weren't in his top 10 holdings in April either. Data for June isn't yet available.
Yields on the 2019 bonds in Gross's fund have declined 0.26 percentage point this week to 4.58 percent as of 3 p.m. in New York.
Janus didn't respond to requests seeking comment from Gross on his Argentine investment.
Gross's fund has returned 3.2 percent this year and is outperforming 75 percent of its peers, according to Bloomberg data. It's had a total return of 2.3 percent since he took over the fund in October 2014, after he left Pacific Investment Management Co., where he managed the Pimco Total Return Fund, the world's largest bond fund at the time.
Despite Argentina's recent success, the country is still contending with a sluggish economy and high inflation, said Paul Christopher, the St. Louis-based head global market strategist at Wells Fargo Investment Institute, which oversees $1.6 trillion. He recommends an underweight position in Argentina bonds.
"Not only are there formidable hurdles, but there is a good chance that the pain caused by fiscal tightening and inflation will dent the currency and bond prices before they can improve," he said in an e-mail.

When Argentina sold bonds in April, Finance Minister Alfonso Prat-Gay said it received almost $70 billion of offers. It's unclear whether Gross bought Argentina's bonds in the offering, but his holdings underscore the debt's growing appeal.
"You wanted to know who bought Argentina?" said Siobhan Morden, head of Latin America fixed-income strategy at Nomura Holdings Inc. "Everyone."
Before it's here, it's on the Bloomberg Terminal.
LEARN MORE