Biggest U.S. Banks Seen Weathering Severe Stress in Fed Test
by , , and
Regulators release results of Dodd-Frank mandated exercises

Morgan Stanley trails Wall Street on Tier 1 leverage ratio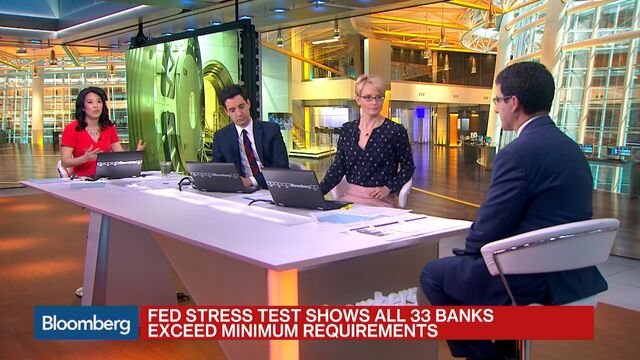 The Federal Reserve's stress tests of big banks found all 33 have enough capital to withstand a severe economic shock, though Morgan Stanley trailed the rest of Wall Street in a key measure of leverage.
The results mark the second straight year all firms passed the annual exams' first phase. The biggest cleared the most severe scenario handily, with one exception. Morgan Stanley's projected 4.9 percent leverage ratio tied for last place alongside a Canadian bank's U.S. unit, falling within a percentage point of the 4 percent minimum.

Since starting the annual tests after the 2008 meltdown, the Fed has used the process to force firms to build up capital. The exams subject banks to Fed-invented hardships and are the cornerstone of the regulator's efforts to ensure lenders can sustain another financial crisis. The results announced Thursday will be followed next week by the Fed's release of a more closely watched measure that determines whether banks can make proposed payouts to shareholders.
"The nation's largest bank holding companies continue to build their capital levels and improve their credit quality, strengthening their ability to lend to households and businesses during a severe recession," the Fed said in a statement.
This year, the hypothetical scenarios were seen as especially tough, calling for banks to assume -- in the most severe case -- that U.S. unemployment doubled to 10 percent while the markets tumbled and Treasury yields went negative. The banks would have experienced resulting loan losses of $385 billion, according to the Fed.
In a lesser "adverse" event, the banks contemplated a minor U.S. recession and mild deflation, while a third was a baseline that tracked the average projections of economists. The scenarios also included some extra hardships for big trading firms, as they had to assume market shocks and trading-partner woes on top of the other troubles.

The first phase -- the Dodd-Frank Act Stress Tests -- measures banks' capital over the next nine quarters, assuming they will continue paying current levels of dividends and won't repurchase stock. The next phase -- the Comprehensive Capital Analysis & Review, or CCAR -- slated for June 29 evaluates whether firms can increase dividends and buy back shares.
Leverage proved a tough hurdle for a number of companies in the first phase, with the U.S. unit of Bank of Montreal tying with Morgan Stanley for the lowest projected level. State Street Corp. was seen dropping to as little as 5.4 percent, with Bank of New York Mellon Corp. at 5.5 percent, according to the Fed. Huntington Bancshares Inc., based in Columbus, Ohio, ranked last on three capital measures.

Huntington slipped 1.8 percent to $9.26 in extended trading as of 4:33 p.m. in New York. Most of other U.S.-based banks in the exam were little changed or advanced. Huntington said its projected capital levels under expected economic conditions "remain significantly above regulatory-defined well-capitalized thresholds, as well as above our more stringent internally-defined capital thresholds."
Spokesmen for Morgan Stanley and Bank of Montreal declined to comment on the Fed's results.
Banks released their own estimates after the Fed, in some cases revealing starkly different projections for certain assets. Wells Fargo & Co., for example, estimated it would lose $3 billion on loans for U.S. commercial real estate, a market regulators have been scrutinizing, under one scenario while Fed examiners estimated $10 billion. JPMorgan said it could lose $6.2 billion on its broader portfolio of commercial and industrial loans -- less than half the $13.7 billion estimate from the Fed.
In some cases, firms were more pessimistic than regulators. Bank of America Corp., which cleared last year's tests after resubmitting its capital plan, forecast a $53.5 billion pretax loss under this year's severely adverse scenario. Examiners put the figure at $36.3 billion.
'Nothing to Lose'
"They had nothing to lose by being as hard on themselves as possible," said Nancy Bush, an analyst who founded NAB Research in New Jersey and holds Bank of America shares. "When they got whacked last year, they took it to heart."
Last year was the first time every participant cleared the Dodd-Frank test without sinking below any minimum capital thresholds. Two banks -- one of Deutsche Bank AG's U.S. units and Banco Santander SA's U.S. arm -- failed the more demanding CCAR assessment, and Bank of America had to resubmit a plan that demonstrated improved risk controls and capital planning. 
Now that banks have initial results, they can revise capital plans sent to regulators before CCAR comes out. Those who think their capital-distribution strategies were too ambitious can send a new version, as JPMorgan Chase & Co., Goldman Sachs Group Inc. and Morgan Stanley did last year.
Bank of America -- which faced significant pressure to overcome its stumbling in the past two exams -- cleared the capital minimums for this initial test, exceeding last year's marks in all categories. The Fed had put the Charlotte, North Carolina-based lender on notice that it needed to get better this year. Chief Executive Officer Brian Moynihan responded by allocating more than $100 million to overhaul controls and he promoted veteran human-resources executive Andrea Smith to chief administrative officer, overseeing the stress-test submission.
Payout Expectations
If the six biggest U.S. banks pass the CCAR exams next week, they probably will dole out more than $60 billion to investors, according to six analysts' estimates compiled by Bloomberg. That's up from about $50 billion in the four quarters ending this month, according to figures provided by Michael Mayo at CLSA Ltd.
Thursday's results are keeping banks on track, Brian Kleinhanzl, an analyst at Keefe, Bruyette & Woods, said in a telephone interview.
"Banks were able to manage the process fairly well," he said. "We're still fairly comfortable with the capital return assumptions for the group as a whole."
Fed chair Janet Yellen said in congressional testimony this week that the stress-test process is about to undergo "meaningful changes." She underlined plans recently announced by Fed Governor Daniel Tarullo that would impose a higher capital target on eight of the largest firms, while giving mid-size banks a break from CCAR assessments of whether lenders adequately track their market risks.
Before it's here, it's on the Bloomberg Terminal.
LEARN MORE