Yellen Productivity Concern Shows Slump's Theory-to-Policy Shift
by
Fed chair tells lawmakers low productivity threatens outlook

Views echo Gordon, who Yellen cites most of non-Fed economists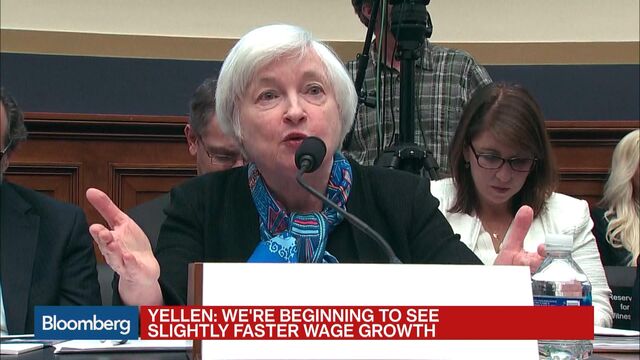 Janet Yellen told Congress this week she's seriously worried about productivity. A careful read of the footnotes in the Federal Reserve chair's speeches reveals this as a concern she's nurtured for while.
Since becoming Fed chief in February 2014, Yellen has referenced the work of Northwestern University economist Robert Gordon more than that of any other non-Fed economist aside from Ben Bernanke, her immediate predecessor. In economic circles, Gordon is famous for his theory that the rapid economic growth that characterized the 20th century is decelerating in the 21st amid less innovation and slower productivity gains.

Yellen said Tuesday that slow productivity growth is "a serious concern," and she isn't alone in that sentiment. The Fed is increasingly acknowledging that weak gains may be the new normal: In a clear example of how economic theory is affecting policy, St. Louis Fed President James Bullard cited low productivity last week as he cut his interest-rate path projection to just one more increase by the end of 2018.
"The immediate policy prescription for a low productivity environment is for lower interest rates," said Guy Lebas, managing director and chief fixed-income strategist at Janney Montgomery Scott LLC in Philadelphia.
The Federal Open Market Committee as a whole has repeatedly reduced its long-run interest-rate estimate, which Lebas called "a perfect reflection of increasing agreement among the FOMC that productivity will be lower for an extremely long time."
In a testimony before Congressional committees on Tuesday and Wednesday, Yellen invoked Gordon in theory, if not in name, saying that while she expects a robust pace of growth going forward, "we cannot rule out the possibility expressed by some prominent economists that the slow productivity growth seen in recent years will continue into the future."

Yellen noted that it's not clear what has depressed productivity compared with, say, the late 1990s, but she cited a slumping rate of business creation and a slower pace of technological change showing up in output data as among the possibilities.
"It is a very serious matter that productivity growth is so slow," Yellen said. "I want to highlight that."
Former Treasury Secretary Lawrence Summers' views for why growth is slower also seem to be playing into Yellen's thinking. He champions a theory called secular stagnation, which posits that an increasing propensity to save and decreasing tendency to invest lowers growth and drives down interest rates.
The Fed's estimate of the neutral interest rate, the one that neither stokes nor slows growth, "has been very depressed in the aftermath of the financial crisis, and discussions about secular stagnation are very much about -- what is the level of interest rates that is consistent with the economy operating at full employment?" Yellen said Tuesday. "I'm hoping that the rate will rise over time, although I am uncertain."
While Summers' demand-deficient stagnation differs from Gordon's innovation-lacking productivity slump theory, academic economists have yet to settle on one or the other as an explanation of slow growth, said Greg Mankiw, a Harvard economist. They're also unsure of why exactly productivity has declined so much. The same is probably true of FOMC policy makers.
"I think Janet is trying to sort this out in her own mind, as are the members of the committee," Mankiw said. "Our track record of forecasting productivity is pretty poor."
Before it's here, it's on the Bloomberg Terminal.
LEARN MORE