Whatever Britons Decide, Bet on Gold's Volatility to Profit
by and
SocGen lists trading strategies for commodities ahead of poll

Bullion volatility is seen rising irrespective of the result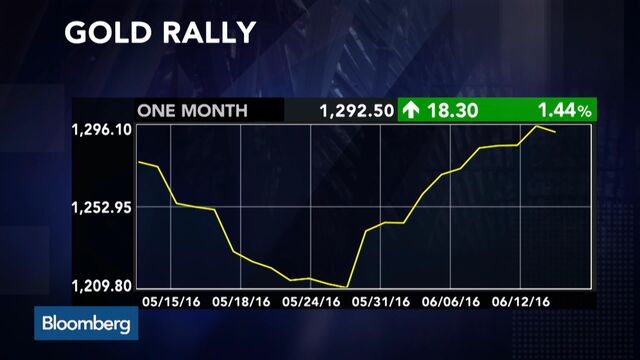 Societe Generale SA has come up with a way for investors to profit from the U.K.'s referendum on whether to remain in the European Union whatever the outcome: bet on a jump in gold volatility.
Swings in bullion should increase whether voters choose to remain in or sever ties with the world's largest trading bloc, according to a note from the bank that lays out trading strategies. Investors could go long on a so-called gold-variance swap, which gains in value as volatility increases, Mark Keenan, head of commodities research for Asia, told Bloomberg Television on Wednesday.
Markets remain on edge ahead of the poll on Thursday amid warnings from governments, central bankers and investors including George Soros that a vote to leave the EU would roil currencies, equities and raw materials. In the event of a Brexit, Societe Generale expects gold to surge as copper and oil drop, while a vote for the status quo would probably hurt bullion. In either case, gold volatility would likely climb, the bank said.
Increase in Value
"We expect gold to jump 10 percent in the event of a Brexit," Singapore-based Keenan said, forecasting a rally to $1,400 an ounce. "We expect volatility in gold to increase significantly, and this can be played out in terms of, from an investor's perspective, through accessing instruments like variance swaps," which increase in value as volatility rises, he said.
In the run-up to the vote, bullion prices have weakened as bookmakers suggest the "Remain" camp is in a strong position even as different polls have put each side ahead. Gold traded at $1,265.48 an ounce by 12:18 p.m. in London, near a two-week low. Gold's 100-day historical volatility rose on Tuesday to the highest since March 2015.
Should the vote back Brexit, for investors "to benefit from the increase in gold volatility, we recommend going long a gold-variance swap," the bank said in the note, adding that the bet is best made before the poll. "This position will likely benefit from both a Brexit and Bremain outcome," it said.
Should the vote endorse Britain staying in the EU, gold's volatility will probably increase as investors who'd bet on bullion gaining, move to change those wagers, according to the bank. "We expect the re-positioning of investors holding long Brexit-related gold positions will drive volatility higher," it said.
Before it's here, it's on the Bloomberg Terminal.
LEARN MORE