Unwilling to Wait for Son, Arora Quits SoftBank With No Plan
by and
Arora to continue relationship with Son despite disappointment

Preparations for annual meeting prompted handover discussion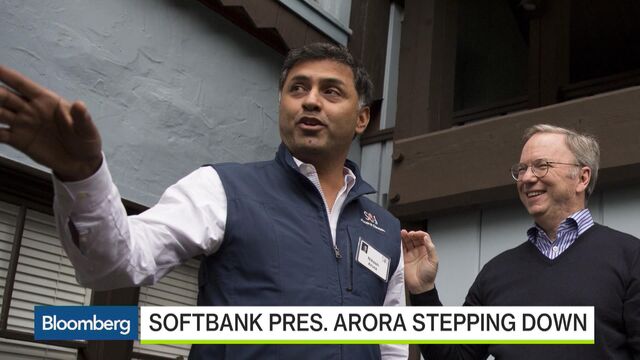 The decision by Nikesh Arora to leave SoftBank Group Corp. began last month during a conversation with founder Masayoshi Son. The two men were in California, preparing for the company's annual general meeting that took place today. One of the presentation slides showed Son's long-term plan to hand over control to his successor.
Although it had never been made public to shareholders or employees, Arora and Son had discussed the chief executive officer giving up his post at 60, a birthday only 15 months away in August of next year. With the date fast approaching, 48-year-old Arora saw the slide and asked for clarity on what would happen.
"He had indicated to me this would happen when he turned 60," said Arora in an interview. "So I asked him, 'Are you ready?"'
Son wasn't. That conversation led to discussions that culminated Tuesday in Arora's announcement that he was leaving as president with Son planning to remain at the helm for several more years. In the interview, Arora said that he questioned Son to understand the magnitude of the delay. Would it be one year? Two years? Ultimately, the billionaire decided he wanted to keep running SoftBank for five to ten years.
"He works 18 hour days. He's invigorated. He said he wants to continue," said Arora, adding that he is disappointed but will continue his close relationship with Son.
Arora's departure came as a shock to SoftBank investors and employees. Son had personally recruited Arora from Google Inc. in 2014 and promoted him to president a year ago. Earlier this year, Son had talked publicly about Arora as his heir apparent. The news of his leaving was so sudden the company had to amend its AGM documents Wednesday morning to remove Arora's board nomination just an hour before the meeting was due to start.
While Son has publicly said he was going to retire in his 60s, saying as far back as 2008 that "60s means from 61 to 69 years old," he told shareholders Wednesday that he was planning to surprise everyone on his 60th birthday.
Arora is stepping down after coming under fire from some investors who questioned his qualifications for the job. But Son said those criticisms played no part in the departure.
"It's been two years since Nikesh came on board," Son said. "And as I'm about to hit my 60th birthday, I thought about passing the reins as CEO. But, then I thought again and realized I still have a year to go until 60. So I'm still a bit young. And still energetic. And I felt I still had a lot of things to do."
Arora said that he opted not to stay at the company because the CEO job wasn't going to open up soon. His departure had to be made public before the shareholders' meeting so he wouldn't be committed to remaining a director for a full year. He will become an adviser to the Tokyo-based company.
Arora said it wasn't feasible to forge a compromise where Son gave up the CEO post but remained chairman. Many companies take such steps during leadership transitions, but that may not have fit SoftBank or Son.
"He is not a chairman-type leader," Arora said. "He rolls up his sleeves, he gets involved."
Ken Miyauchi will become president after shareholders on Wednesday elected him to the board. SoftBank shares gained 2.6 percent, while the Topix index declined 0.7 percent. It was the mobile carrier's best single day performance relative to the broader market since April 5.
Arora had been leading the company's increasingly ambitious plans to invest in promising startups. He had plans of investing about $3 billion a year in hopes of repeating the success of SoftBank's investment in Alibaba Group Holding Ltd., the Chinese e-commerce company that held the world's largest initial public offering in 2014.
Arora spearheaded investments into e-commerce startups throughout Asia, competitors of Uber Technologies Inc. and Airbnb Inc. in India, and online lending in the U.S.
SoftBank will continue to hold those investments, of course. Arora said Son has strong relationships with the startups and their founders, and will continue to foster their development. "It's a peaceful transition," Arora said.
Arora took to Twitter after the announcement with a flurry of more than 100 posts that lasted past 4 a.m. in Tokyo. He responded to well-wishers and fielded questions about what he would do next.
While he said he may take some time off and wasn't in a hurry to make a decision, people wondered whether he might write a book, seek another CEO job or become a governor at India's central bank.
"The plan is no plan," Arora wrote.
Before it's here, it's on the Bloomberg Terminal.
LEARN MORE