Uniqlo Owner Compares Himself, SoftBank's Son to Disabled
by and
Yanai, Son, Nidec's Nagamori answer query at SoftBank AGM

Yanai, Nagamori pledge to do more to hire disabled workers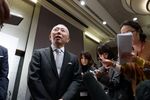 Fast Retailing Co. Chief Executive Tadashi Yanai pledged to hire even more disabled people, while joking that he and SoftBank Group Corp. Founder Masayoshi Son were
themselves mentally impaired.
"In fact, I think completely healthy people are very rare," Yanai said in response to a question at SoftBank's annual shareholders meeting in Tokyo today. "Mr. Son is someone who exaggerates a lot, so he has one type of disability, as do I," Yanai said, drawing laughter from Son and the crowd. Shigenobu Nagamori, a fellow SoftBank board member and the chief executive officer of chipmaker Nidec Corp., agreed that all three executives were disabled.
The responses came toward the end of a 2 1/2 hour shareholder meeting by SoftBank, which included Son presenting a video on how humanity will be saved when artificial intelligence surpasses that of humans. That prompted a question to all three executives about whether AI will help those with mental disabilities, and what work SoftBank is doing to support such people.
Under Japanese law, larger companies are required to hire a certain number of disabled persons in proportion to the overall workforce.
"At SoftBank, we've begun research and created teaching materials that will make use of technology to support the education and lifestyles of the mentally disabled," Son said. "We want to evolve AI precisely for those people, and to help them in terms of medicine and knowledge. We believe technology has a role to play in that, so from that perspective we are contributing."
Yanai prefaced his joke about the SoftBank board members' mental capacity by saying that Fast Retailing, which operates Uniqlo stores, is trying to employ more disabled workers, and create an environment in which all kinds of people can work together.
"The biggest problem for the disabled is that there's no place for them to work," Yanai said. "I think the most important thing is to create a place where they can work together with those who aren't disabled."
Nagamori responded to Yanai's subsequent joke.
"As pointed out, the three of us here are mentally disabled," he said.
"From that perspective, it's a must that the three of us make effort to provide all kinds of social support. I'm very conscious of the need to carry out that mission."
Yanai is the richest person in Japan and Son is the second-richest. The two men have a combined personal wealth of $25 billion. Nagamori's stock holdings are worth at least 196 billion yen ($1.9 billion), according to Bloomberg calculations.
Before it's here, it's on the Bloomberg Terminal.
LEARN MORE