The Mysterious Case of the BOJ's Missing Pre-Brexit Bond Buying
by and
Investors surprised by scarcity of superlong debt operations

Some say central bank holding fire ahead of U.K. referendum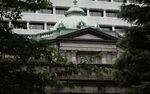 It's 10:10 a.m. on Monday and Tadashi Matsukawa at PineBridge Investments Japan is waiting for something. So is Masayuki Koguchi at Mitsubishi UFJ Kokusai Asset Management and fellow fund managers across Tokyo's financial district.
It doesn't come.
Up to now, the Bank of Japan has tended to conduct bond-purchase operations -- known locally as "rinban" -- on the days following a government auction. Not this time. The Finance Ministry had sold about 400 billion yen ($3.8 billion) of Japanese government bonds with tenors of 20, 30 and 40 years on Friday, but come Monday, the central bank wasn't buying.
"There's no reason why they had to cancel it," said Matsukawa, who is the head of fixed-income investment at PineBridge. "It was odd they didn't purchase superlong bonds the previous Monday and Tuesday as well. We haven't seen rinban on the days we expected."
Deepening Mystery
The mystery is all the deeper because it puts the BOJ in the rare situation of having three operations left to conduct this month and only four days to do them, according to market watchers. The monetary authority doesn't explain its decisions, leaving investors and analysts free to speculate. Some, including Matsukawa, say the central bank is simply balking at the record-low yields its own policy helped create. But others suggest it's linked to Britain's European Union referendum.
"They must be getting increasingly worried about a spike in yields if the U.K. votes to remain," said Katsutoshi Inadome, a senior bond strategist at Mitsubishi UFJ Morgan Stanley Securities Co. in Tokyo. "They expect there could be a reversal of the recent global safe haven flows, which could throw the JGB market into turmoil."

Japan's sovereign bond yields tumbled to records across maturities last week as global markets swung in time with opinion polls ahead of Thursday's vote -- with the result likely to come during Tokyo's trading day on Friday. The yield on the 20-year bond, favored by domestic investors including banks and life insurers, has been cut by as much as two-thirds this month to a record-low 0.09 percent on June 16, making it the most expensive relative to the 10-year note since at least 2006.
Market Condition
The central bank conducts bond operations based on its own rules and taking into account market conditions, said a BOJ official who asked not to be named, citing bank policy.
BOJ Governor Haruhiko Kuroda has said lower interest rates are one of the goals of his policy mix of record asset purchases and a negative deposit rate, designed ultimately to drive inflation to 2 percent. The JGB market has been the most affected by the central bank's stimulus, whereas weakness in the yen and gains in stocks have reversed course since the middle of last year.
Kuroda said on June 16 after leaving policy settings unchanged for a third meeting that the U.K. referendum is "making international financial markets somewhat unstable," and he will carefully monitor the impact of the vote. He reiterated the central bank won't hesitate to add to stimulus if necessary, while declining to comment on the potential for an unscheduled policy meeting.
The 20-year JGB yielded 0.195 percent on Wednesday in Tokyo. The 10-year note yield was minus 0.14 percent on Thursday, after reaching a record minus 0.21 percent last week.
"Superlong bonds have high volatility," said Koichi Sugisaki, an analyst with Morgan Stanley MUFG Securities Co. "If they fail to tame the market by conducting rinban on Friday, they only have one chance left next week, opening up the risk they won't be able to contain sudden spikes in yield."
Before it's here, it's on the Bloomberg Terminal.
LEARN MORE