The ECB Could Soon Run Out of Bunds to Buy
Negative interest rates are suppressing yields on German government bonds, pushing many outside the scope of the ECB's asset purchase program
by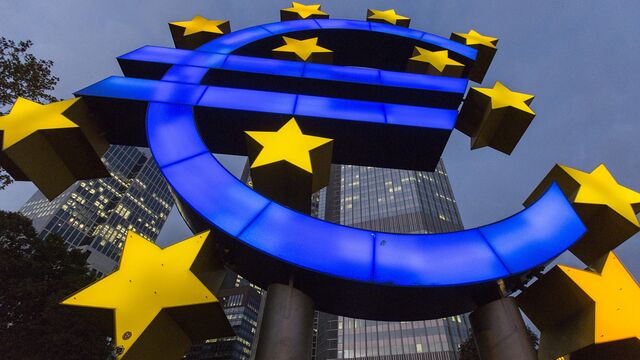 The European Central Bank's haul of bonds passed a trillion euros this month. A second trillion may be harder to come by.
The ECB could run out of German government bonds to buy as soon as October, according to Citigroup Inc.'s Harvinder Sian. That's a problem because the bonds of eurozone governments form the largest component of the asset purchase plan it's designed to stimulate lending and boost inflation — and bunds in turn make up the largest share of those sovereign debt purchases. The program is set to run until at least March 2017 at a pace of about 80 billion euros ($90 billion) per month. 
The ECB's own policies may be making its job harder. Both its asset purchases and its negative interest rates have sparked a decline in bond yields, complicating the bank's ability to meet its asset-purchase targets. Decreasing yields push a larger proportion of bonds below the -0.4 percent deposit rate that's been set as a floor for the program, making them ineligible for purchase.
To address this, Sian says the ECB will need to make changes that could include increasing the share of bonds it can buy from a single debt issue (it has already increased that ceiling to 33 percent, from 25 percent). Another option could be to loosen up the application of the ECB's so-called 'capital key,' which stipulates that the quantity of purchases should be roughly proportionate to the size of each nation's economy — a system that favors the bonds of Germany, whose notes tend to yield the lowest.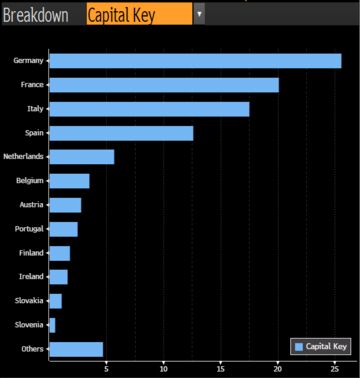 The mechanics of how the bank buys bonds, while dry, are important because many investors expect an extension of the bank's bond purchases beyond the program's current end date, according to Bank of America Corp. strategists led by Ruairi Hourihane. (BofA economists expect the ECB to announce an extension in September). The analysts echo Citi's in saying, a strict application of the capital key is the "only option that would deliver meaningful return." 
"We think the ECB will have to address departures from the current purchase methodology to be able to commit credibly to a QE extension beyond March 2017," the BofA strategists wrote. "Specifically, we believe the Bundesbank increasing its purchases of supras would allow QE to continue up to December 2017," they said, referring to debt issued by supranational organizations like the European Investment Bank. 
Scarcity of assets is not a problem specific to the euro area — just look at Japan, where the central bank is approaching a shortage of government bonds. Still, the ECB needs to break the conventions of its unconventional monetary policy if it is to keep its QE program alive.
Before it's here, it's on the Bloomberg Terminal.
LEARN MORE