The Bullish Implications of a Doubling in Bearish Brexit Hedging
by
Bank of America's Skew Index surges as U.K. prepares to vote

Cautious stance means limited downside should 'leave' prevail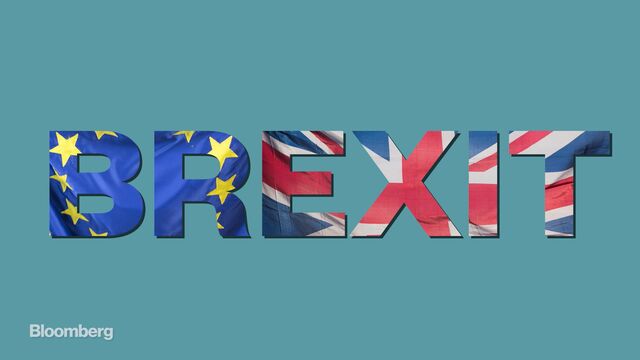 The price of protection is skyrocketing across financial markets ahead of tomorrow's U.K. referendum, a signal to one researcher that the market fallout will be muted.
Bank of America Corp.'s Skew Index, which measures demand for hedging against large swings in global equities and currencies, has more than doubled this month to 1.50, and the gauge reached 1.63 last week, the highest level since October 2011, during the height of Europe's sovereign debt crisis.

Investors are seeking shelter in options as the latest polls on the Brexit vote show the outcome too close to call. Billionaire investor George Soros warned that the pound could plunge more than 20 percent should U.K. voters back leaving. Equity strategists from Bank of America said European stocks could move 10 percent either way, with a selloff overseas sparking a drop of at least 6 percent in the S&P 500 Index.
To Ned Davis Research, all the cautious positioning means any losses could be limited should the "Leave" campaign prevail.
"This behavioral bias suggests that there may not be too much downside in the event of an 'out' victory as many investors are already hedged," Vincent Deluard, an European strategist at Ned Davis Research, said in a note to clients on Tuesday. "Conversely, overly cautious managers may scramble to rebuild their positions in British assets after an 'in' victory."
Polls showing the "Remain" camp gaining ground have already boosted shares. The MSCI All-Country World Index rose a fourth day as bookmakers' odds implied there's only about a one-in-four chance that Britons will opt to leave the EU. The pound strengthened toward a five-month high.
Worries that the U.K. would secede wiped as much as $2.7 trillion from global equities earlier this month. Odds for a "Leave" vote have dropped to about 25 percent from 43 percent a week ago following the murder of U.K. lawmaker Jo Cox, who favored staying in the EU. 
Still, opinion polls suggest the vote is too close to call, with warnings from central bankers such as Federal Reserve Chair Janet Yellen that a victory for the "Leave" camp would destabilize financial markets.
Anxiety over market turbulence has fueled a surge in option prices. Two-week implied volatility for the pound, a measure of expected price swings, climbed to a record last week. At that time, the CBOE Volatility Index, an options gauge for the S&P 500, posted its biggest two-day jump since August, while its counterpart in Europe, the Euro Stoxx 50 Volatility Index, climbed to a 10-month high.
Before it's here, it's on the Bloomberg Terminal.
LEARN MORE