Sanofi Said to Consider Adding Future Payments to Medivation Bid
by and
French drugmaker said to discuss 'contingent value rights'

Sanofi executives said to push offer in investor meetings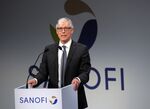 Sanofi, the French drugmaker, is considering improving its $9.3 billion takeover offer for Medivation Inc. by committing to making future payments if the U.S. biotech company meets certain targets, according to people familiar with the matter.
Sanofi executives met with Medivation investors in recent days to discuss the inclusion of so-called contingent value rights as part of a potential sweetened bid for the company, said the people, who asked not to be identified because talks are private.
Sanofi Chief Executive Officer Olivier Brandicourt has taken his case straight to Medivation's investors, asking them to eject the board that spurned his offer and refused to negotiate. San Francisco-based Medivation has told shareholders that the proposal is a "devil's bargain," and the new directors could settle for a price that isn't in their interest.
Representatives for Medivation and Sanofi declined to comment.
The use of CVRs would echo tactics deployed by Sanofi in its $20.1 billion takeover of Genzyme in 2011. In that deal, the Paris-based company offered to pay shareholders an additional $14-a-share if Genzyme's multiple sclerosis drug Lemtrada cleared certain hurdles, including being approved by the U.S. Food and Drug Administration.
CVRs could also assuage concerns raised by Medivation that Sanofi is trying to pay less for a future that executives have declared "incredibly bright." In a letter to shareholders last week, Chairman Kim Blickenstaff and CEO David Hung objected strongly to "Sanofi's attempt, through coercive tactics, to acquire Medivation at an opportunistic, low price."
Before it's here, it's on the Bloomberg Terminal.
LEARN MORE