U.S. Stocks Slip With Looming U.K. Brexit Vote Too Close to Call
by and
Equities lose momentum as fresh opinion polls damp optimism

Volatility measure surges again on eve of referendum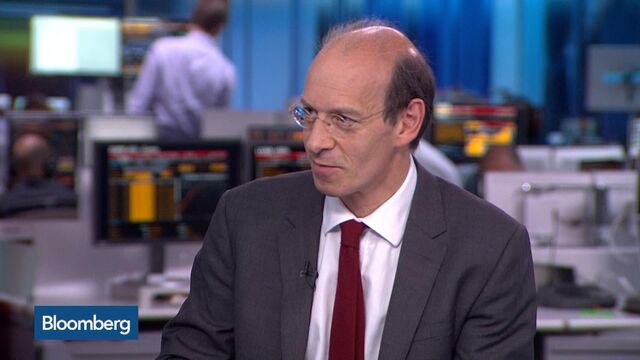 U.S. stocks slipped amid fragile sentiment, as traders weighed the probability of the U.K. voting to remain in the European Union a day before the referendum.
Equities lost momentum following back-to-back gains as polls released today quelled recent optimism Britain will stay in the EU. Tesla Motors Inc. sank the most in two years after offering to buy SolarCity Corp, and McDonald's Corp. fell to a three-month low on an analyst downgrade of the stock. Energy producers slipped with oil, falling for the first time in four sessions, while the health-care group advanced as biotechnology shares rebounded.
The S&P 500 Index declined 0.2 percent to 2,085.45 at 4 p.m. in New York, after erasing a 0.5 percent gain. The Dow Jones Industrial Average lost 48.90 points, or 0.3 percent, to 17,780.83, wiping out a 90-point climb. A gauge of volatility jumped the most since Brexit concerns escalated more than a week ago. The Nasdaq Composite Index fell 0.2 percent. About 6.3 billion shares traded hands on U.S. exchanges, 9 percent below the three-month average.
"The markets at the moment are held hostage to the prospects of the U.K. leaving," said Mark Luschini, chief investment strategist at Philadelphia-based Janney Montgomery Scott LLC, which manages $54 billion. "With the vote happening tomorrow, I suspect that there will be some delicate positioning in anticipation of it, but nothing particularly dramatic. I can't envision a scenario where the markets will rally significantly. If the referendum ends up leaning toward a Brexit, those holding riskier assets would be caught."
The CBOE Volatility Index jumped almost 15 percent Wednesday to 21.17, erasing an early 3.5 percent drop amid renewed anxiety before Britain's EU vote. It was the gauge's biggest climb since a two-day, 43 percent climb almost two weeks ago. The measure of market turbulence known as the VIX is up 49 percent in June and headed toward its biggest monthly climb since a record surge in August.

The S&P 500 fell from its highest since June 10, closing Wednesday 2.1 percent below a record set 13 months ago. After worries that the U.K. would secede spurred the gauge's worst weekly retreat since April, polls showing the "Remain" camp gaining ground boosted shares in the prior two days. Still, it looks too close to call. While Oddschecker data show betting companies see only a roughly one-in-four chance of Britain leaving the EU, polls have been split on the outcome.
In addition to the looming vote, concern that central-bank efforts are losing their potency, valuations stuck above the three-year average and successive quarters of declining profits weighed on stocks after the S&P 500 two weeks ago came within 0.6 percent of its all-time high. Federal Reserve Chair Janet Yellen finished two days of testimony to lawmakers after yesterday signaling a cautious and uncertain view of the economy.
Home Sales
The International Monetary Fund cut its forecast for U.S. growth this year, urging the Fed to lean toward modestly overshooting its inflation target in considering whether the economy can handle higher interest rates. A report today eased some worries, as sales of previously owned homes climbed in May to the highest level in more than nine years, indicating demand for residential real estate remains robust.
The Fed last week scaled back its projections for the pace of future interest-rate increases amid concerns about slower job gains and the U.K.'s potential EU exit. Traders have reduced their wagers on higher borrowing costs, pricing in less than even odds of a move at least until February 2017.
"Volumes in the U.S. are pretty thin as everybody is waiting for the vote before doing anything major," said John Plassard, a senior equity-sales trader at Mirabaud Securities in Geneva. "There might also be some short covering right before the vote as nobody would want to be short if remain wins."
Among the S&P 500's 10 main industries, energy companies lost 0.6 percent, with crude sliding after U.S. government data showed stockpiles declined less than expected last week amid a jump in imports. Utilities, technology and industrial stocks also fell at least 0.3 percent. Health-care was the top performer as the group alternated between daily gains and losses for a seventh session.
Biotechs Bounce
Drug developer Regeneron Pharmaceuticals Inc. rose 2 percent, ending a four-day losing streak and 10 declines in the prior 11 sessions. Celgene Corp. and Bristol-Myers Squibb Co. added more than 1.4 percent. Health-care had been the S&P 500's worst-performing group since the benchmark hit an almost 10-month high two weeks ago. The Nasdaq Biotechnology Index rose for the second time in three days, up 0.7 percent after ending on Monday its worst losing streak since 1996.
Marathon Oil Corp. and Anadarko Petroleum Corp. fell at least 2 percent, while Chevron Corp. lost 0.9 percent to pace declines in energy. Wednesday's retreat halted the group's longest winning streak in two months.
Adobe Systems Inc. sank 5.7 percent, the most since February, to weigh on technology shares. The software company forecast revenue in the current quarter that may miss analysts' estimates, signaling slowing momentum for its cloud-based products. HP Inc. tumbled 5.4 percent after lowering its free cash flow outlook as it reinvests proceeds from asset divestitures back into its printing business.
FedEx Inc.'s 4.5 percent drop was the biggest drag on industrials in the benchmark. The world's largest cargo airline fell the most in 10 months after disappointing investors by not providing more specifics on how the $4.8 billion acquisition of Dutch shipping company TNT Express will affect earnings.
Before it's here, it's on the Bloomberg Terminal.
LEARN MORE