quicktake
How a Fiduciary Rule Became a Presidential Issue: QuickTake Q&A
By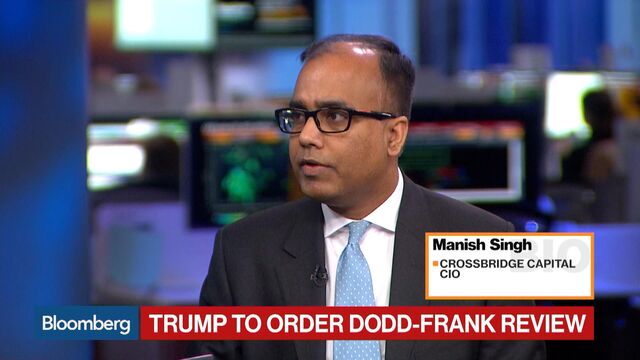 What's more important to people saving for retirement -- advice that comes without conflicts of interest, or advice they can afford? President Barack Obama came out against conflicts. In April 2016, the U.S. Labor Department issued rules holding people and companies that offer advice on 401(k) and similar retirement plans to what's known as a fiduciary standard. That means they must commit to giving advice in a client's best interest and charge reasonable compensation. Wall Street firms challenged the rule, arguing that it may make professional advice too expensive for millions of households. Now, just months before the rule is due to take effect, Obama's successor is intervening on their side.
1. Will the rule take effect?
President Donald Trump is ordering a delay in its implementation, which was scheduled to begin on April 10. Last year, after congressional Republicans passed a resolution to nullify the rule, Obama vetoed it. A number of Wall Street groups and the U.S. Chamber of Commerce have filed lawsuits to block the rule. They charge that the Labor Department encroached on the U.S. Securities and Exchange Commission's territory and overstepped boundaries set for it by Congress for regulating broker-dealers.
2. So is everything on hold now?
Not necessarily. Executives at several investment-management firms say they'll continue working toward the fiduciary standard, altering products and lowering commissions.
3. How did we get here?
The Obama administration concluded that brokers were boosting their compensation by pushing clients into high-fee products instead of better alternatives. It said savers were losing $17 billion a year as a result of being pushed into investments that were a better deal for their brokers than for them. Concerns over the potential for conflicts of interest led lawmakers and regulators to hone in on the $14 trillion industry, particularly sellers of annuities. Senator Elizabeth Warren, a Massachusetts Democrat, sent a letter targeting those companies for their practice of offering personal perks, including diamond-encrusted rings and cruises, to entice brokers to sell their products.
4. How would the system work under Obama's fiduciary rule?
Advisers could still collect commissions from sales of certain retirement products, but they'd have to disclose conflicts of interest to customers. Ahead of the rule's announcement, insurers including American International Group Inc. and MetLife Inc. sold broker-dealer operations to limit conflicts with units that manufacture annuities.
5. What's the problem with the rule?
A broad coalition of companies fought it, saying increased compliance costs would make it too expensive for them to manage the smaller accounts of low-income people. There's concern as well that the rule allows investors to bring class-action lawsuits over violations, rather than go through arbitration. Critics of the fiduciary rule point to the U.K., which in 2012 banned financial advisers from receiving commissions on some products. The chairman of the U.K.'s market regulator, the Financial Conduct Authority, said in 2013 that the rule left an "advice gap" for consumers seeking financial help.
The Reference Shelf
— With assistance by Peggy Collins, and Elizabeth Dexheimer
Before it's here, it's on the Bloomberg Terminal.
LEARN MORE