Pound Strengthens, Yen Weakens as U.K. Seen Remaining in EU
by and
Voting ends in U.K. as stocks surge in Thursday trade

Treasuries, gold, yen slide; bank shares led S&P 500 higher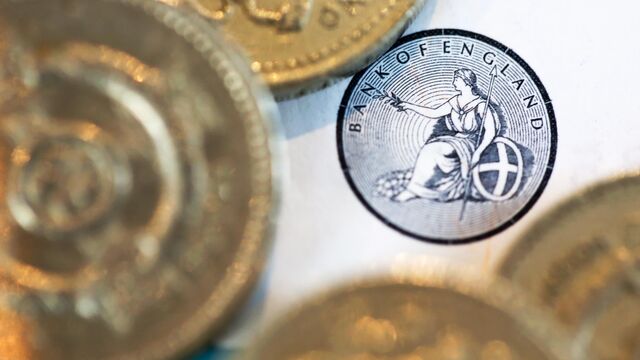 The pound strengthened to the highest level this year while the yen weakened as early polls reinforced speculation the U.K. voted to remain in the European Union.
Equities rallied with risk assets around the world Thursday in anticipation Britons would reject EU secession, a threat that has rocked financial markets for two weeks. A YouGov poll indicated support for remaining part of the 28-nation bloc stood at 52 percent. First results are expected around 7 p.m. New York time, and the final ones are due at about 2 a.m. on Friday. Stock and equities futures markets were closed with bond markets.
Sterling climbed toward $1.50 after the polls closed, pushing its rally this week past 3.5 percent, while the Australian and New Zealand dollars led gains among high-yielding currencies. The Japanese currency slid to 106.80 per dollar.
"Markets are reflecting a remain vote, oddsmakers are reflecting a remain vote," said Michael Arone, the Boston-based chief investment strategist at State Street Global Advisors' U.S. intermediary business. The firm oversees $2 trillion. " The question is will we get that expected relief rally. We might have already gotten it at this point." 
The debate over Britain's future dominated trading in June, with anxiety over the economic impacts of a Brexit, and the boost it could give to anti-establishment sentiment globally, stoking market volatility around the world. Riskier assets from equities to industrial metals rallied this week amid speculation sentiment was shifting toward remaining.
To sign up for Bloomberg's live blog of the U.K. referendum, click here.
MSCI's global stock gauge jumped 1.4 percent Thursday, capping a five-day surge of 4 percent. The S&P 500 Index ended within 1 percent of an all-time high, while the CBOE Volatility Index, a measure of investor anxiety, plunged 19 percent, the most since 2013. Haven assets from Treasuries to the yen retreated.
In Asia, index futures indicated an up day for equities as contracts on stock gauges from Japan to Australia rose with shares in the U.S. Nikkei 225 Stock Average futures in Osaka climbed 1.6 percent to 16,420 as of 2 p.m. in New York, while contracts on the S&P/ASX 200 Index in Sydney and South Korea's Kospi index climbed at least 0.9 percent. Futures markets reopen at 6 p.m. in New York.

Currencies
The pound rose 0.7 percent to $1.4985 at 5:24 p.m. in New York, its strongest level since Dec. 25 and extending its rally so far this week past 3.5 percent. The Bloomberg British Pound Index, which tracks sterling against a basket of peers, also gained.
"There's a higher confidence now that the vote would be to stay," said Derek Halpenny, the London-based European head of global markets research at Bank of Tokyo-Mitsubishi UFJ Ltd.
The Aussie climbed 0.4 percent to 76.43 U.S. Cents, while the kiwi jumped for an eighth straight day, strengthening as much as 0.7 percent to its strongest level since May last year.
Stocks
The S&P 500 added 1.3 percent to 2,113.32 at 4 p.m. New York time. Banks stocks had their best day in five weeks, with JPMorgan Chase & Co. rising 2.1 percent. 
After the close of trading, the Federal Reserve released results of its Wall Street stress tests that showed the 33 biggest banks all have enough capital to weather a severe economic shock. The test runs banks through hypothetical scenarios, as regulators push lenders to build up capital buffers to prevent a repeat of the 2008 financial crisis measured.
The banks include Well Fargo & Co., JP Morgan & Chase Co., and Morgan Stanley, which trailed the rest of Wall Street in a key measure of leverage.
Raw-materials producers advanced for the sixth time in seven sessions while energy companies rebounded with crude.
"People have already taken positions ahead of the vote," said Patrick Spencer, equities vice chairman at Robert W. Baird & Co. in London. His firm manages $151 billion. "Markets hate uncertainty and tomorrow we'll finally have certainty -- we'll know which way we're going. In the U.S., we're back to that Goldilocks scenario. You've got reasonable growth, but not so strong so as to raise rates."
The Stoxx Europe 600 Index rose 1.5 percent Thursday, bringing its five-day rally to 7.8 percent. The volume of shares changing hands on the European benchmark was about 25 percent higher than the 30-day average. The U.K.'s FTSE 100 Index advanced 1.2 percent.
Before it's here, it's on the Bloomberg Terminal.
LEARN MORE