French Government Backs Down to Allow Paris Labor-Reform Protest
by
Interior ministry overrules earlier ban from Paris police

France had not banned a labor-union protest since 1962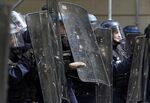 The French Interior Ministry authorized a union-backed protest march scheduled for Thursday in Paris, overruling a police ban as the government sought to defuse tensions over its plans to ease protections for workers.
Interior Minister Bernard Cazeneuve on Wednesday overturned a decision taken hours earlier by Paris police, who were concerned the demonstration posed a threat to security after similar protests last week degenerated into violence. The minister said the marchers will be allowed to follow a revised, shorter itinerary set by his office and law enforcement measures will be beefed up.
Workers' leaders had vowed to fight France's first ban on a union demonstration in more than 50 years, calling it "undemocratic" and "unconstitutional." The country's constitution gives every citizen the right to stage protests so long as they don't disrupt public order.
"This is a victory for unions and for democracy," Confederation Generale du Travail chief Philippe Martinez said at a press conference near Paris Wednesday. "The president has no other choice but to meet with the unions, very quickly."
Police Stretched
Seven labor unions are planning marches for Thursday and next Tuesday while thousands of soccer fans from across Europe are visiting France for the European championships. Police in the capital said they were already stretched by the soccer tournament and the threat of terrorism when they announced the ban.
"This weighs on our security forces," Cazeneuve said Wednesday. "No scuffles, no violence will be tolerated. Our ability to have a democratic debate in our country is at stake."
Socialist President Francois Hollande has been struggling with labor unions and student groups for four months as they resist his plans to allow businesses to increase working hours with minimal compensation, cap severance pay and eliminate jobs more easily. Strikes have disrupted public transport and garbage collection and led to shortages of gasoline supplies at times. Labor Minister Myriam El Khomri met with the CGT's Martinez, the plan's most vehement opponent, on June 17 and failed to find any common ground.
The government has already used an emergency procedure to bypass rebels in parliament once and is threatening to use it again, the Socialist whip in the National Assembly, Bruno Le Roux, said Friday, infuriating unions and also lawmakers from within the majority. Socialist lawmakers fighting the bill had threatened to stage their own demonstration on Thursday in support of the unions if the government hadn't backed down.
Before it's here, it's on the Bloomberg Terminal.
LEARN MORE