One Trauma Is Enough as Brexit Din Drowns Spanish Vote Angst
by
IBEX 35 has moved in virtual lockstep with the Stoxx 600

Polls show no single party winning majority in Sunday's vote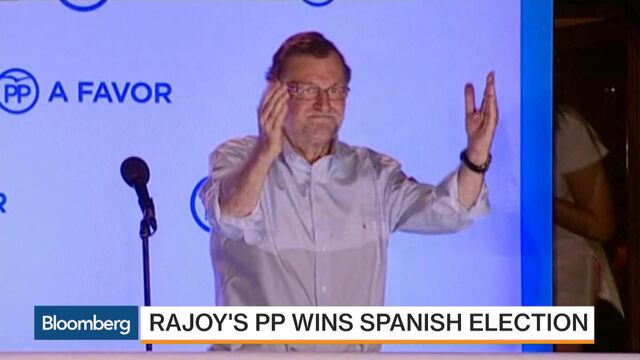 Here's one good thing the din around Brexit has done for investors: it's drowned out the market angst that would typically have been whipped up by Spanish politics.
Even as the country's general election approaches on Sunday, Spanish stocks are marching virtually in lockstep with the rest of Europe, taking their cue from polls and bookmaker odds over the likelihood of British secession. The IBEX 35 Index and the Stoxx Europe 600 Index both fell to their lowest levels since February last week before rebounding more than 6 percent, and the Spanish gauge is trading near its average 60-day correlation to the regional benchmark over the past year.
Last time around, uncertainty surrounding Spain's inconclusive December elections sent its shares tumbling, making them some of the worst in western Europe in 2015. Now, even after six months with no government in place and no clear winner seen emerging, minds are elsewhere. Blame the Brexit referendum, says IG Group's Alvaro Huerta.
"People are waiting to see what the Brexit results are before turning their attention to elections again," said Huerta, who manages investor accounts at IG in Madrid. "The IBEX 35 underperformed after the December vote, so it has priced in some political uncertainty. If the U.K. remains in the European Union and parties get to an agreement to form a government, Spanish equities should outperform."

Spanish stocks plunged in the aftermath of the Dec. 20 elections as no single party emerged a winner and politicians failed to form a working alliance. The selloff lingered into 2016 as sentiment worsened amid worries over companies' exposure to emerging markets and bank profitability, with the IBEX 35 still down 8.8 percent. Some of those concerns will ease, with part of the political uncertainty priced into the market, UBS Group AG said in a June 17 note, recommending so-called value stocks.
Even after a 12 percent rebound from its February low -- a rally in line with the Stoxx 600 -- the IBEX 35 trades at 13.6 times estimated earnings, versus 14.8 for the European index. Magallanes Value Investors' Blanca Hernandez, manager of this year's second-best performing Spanish equity fund, says prospects for a domestic recovery are making the nation's shares attractive. Its economy is "thriving" despite the stalemate, Santander SA's chief financial officer said in April, while the country's annual gross domestic product is projected to exceed that of the euro area through 2018.
Many investors are waiting on the sidelines for more clarity on governance, says Antonio Barroso, a political analyst at Teneo Intelligence in London. An exchange-traded fund tracking Spanish shares has seen outflows every month since September.
The IBEX 35 added 0.1 percent at 9:37 a.m. in Madrid, on track for its longest advancing streak in two months.
"They're in standby because uncertainty is never good for markets," Barroso said, referring to clients who are considering investing in Spanish assets. "Macro indicators continue to be positive thanks, in part, to tailwinds like a weakening euro, a low oil price and monetary stimulus. That can be reverted if there's a big external shock and no government to react to it."
Polls ahead of the June 26 vote show that acting Prime Minister Mariano Rajoy's center-right People's Party is on track to remain the biggest group, but falling well short of a majority, signaling the need for a compromise. While support for PP rose by almost a percentage point in the past week, backing for leftist Podemos was unchanged. The only scenarios not priced into markets are a victory for the left or repeat elections, while a right-of-center coalition may trigger a relief rally, UBS wrote.
Avoiding industries that could come in for greater regulation, such as banks and utilities, has helped Hernandez beat peers. Her Magallanes Iberian Equity FI fund has advanced 2.9 percent this year, versus an 8.7 percent slide in the IBEX 35, according to data compiled by Bloomberg. Her holdings include transport and security company Prosegur Compania de Seguridad SA and paper maker Iberpapel Gestion SA, which have bucked the trend to rise more than 4.3 percent in 2016.
"The current political situation could bring some short-term volatility to the Spanish market, but that hasn't affected our holdings," said Hernandez, who helps manage about 600 million euros ($678 million) and looks at long-term stock performance. "I haven't seen investors get too nervous."
Before it's here, it's on the Bloomberg Terminal.
LEARN MORE