One Chart That Shows How the Internet Is Crushing Department Stores
The troubles aren't going away.
By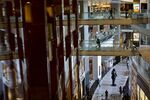 It's no secret that department stores are struggling — even their top executives have to admit it — but this chart shows just how badly things have gotten. As seen in a note from Standard Chartered Plc, U.S. consumers are rapidly moving online, and in-store sales are only going to slow down in the near future.