Nature's Box of Matches Will Shower Sparks Across the U.S. West
by
Fire threat rises from dry thunderstorms in four states

California's heat might dip before returning next week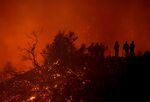 Dry thunderstorms. Think of them as just another way weather can make things miserable in the West.
In a region that has been baking under record heat, sending power and natural gas prices soaring and raising the specter of the highest gas prices in a year, the prospect of such storms popping up is also boosting the threat of wildfires.
"They are storms producing lightning but not producing a lot of precipitation," said Ariel Cohen, a meteorologist with the U.S. Storm Prediction Center in Norman, Oklahoma. "We get a fire started and it's not put out by wetting rain."
The storms also bring the high winds typical of thunderstorms anywhere. In fact, they can spin up winds so furious they "create whiteout conditions like you would see with a heavy snow," said Michael Musher, a forecaster with the U.S. Weather Prediction Center in College Park, Maryland.
So, just to recap: A fire can get started and there's no rain to slow it down, but there's plenty of wind to spread it around -- a trifecta of bad news.
The Storm Prediction Center said parts of Utah, Colorado, Arizona and New Mexico all have a chance for dry storms through Wednesday.
Already Burning
There were eight fires burning Tuesday across California, including two in Los Angeles County, according to the website of the state Department of Forestry and Fire Prevention. Four large uncontained fires were burning in Arizona and New Mexico, said the National Interagency Fire Center in Boise, Idaho.
While the fire threat is high because of the storms, the heat is still bearing down on parts of southern California and Arizona.
The high in Needles, California, on Monday tied the all-time record of 125 degrees Fahrenheit (52 Celsius), the National Weather Service said. Palm Springs reached 122 degrees, a new mark for the date. Las Vegas and Winslow, Flagstaff and Prescott in Arizona also set records for the day.
"Obviously we are seeing historical numbers," Musher said.
Things got so hot in California, the state's main grid operator called on residents to turn off unneeded lights and avoid using major appliances to save electricity. Supplies of natural gas in the state were already limited because of a four-month leak at a storage field.
Slight Cooldown
There is a chance of a break in the heat for parts of California as a low-pressure trough digs across the Pacific Northwest, Musher said. For some areas, relief will be a relative term. Instead of being 20 degrees above average, temperatures will range 5 to 15 degrees higher than normal, he said.
A high pressure ridge spurring on the heat could bring it right back by early next week, Musher said. Forecasts for Sunday are for temperatures over 100 from Northern California into Arizona. In a week, there could be 111-degree highs across California's Central Valley, and 114 in Arizona.
Readings into the 90s are possible across Texas and into the Midwest, while New York will flirt with the high 80s, the Weather Prediction Center said. A long period of sustained heat could push natural gas futures above $3 per million British thermal units, a mark not seen since May 2015, Gene McGillian, senior analyst at Tradition Energy in Stamford, Connecticut, said Monday.
In case anyone was wondering, summer has definitely arrived.
Before it's here, it's on the Bloomberg Terminal.
LEARN MORE