business
Looters Run Amok After Protests Rock South Africa's Capital
By and
Stores targeted in five townships around Pretoria overnight

Protests sparked by ANC's choice of mayoral candidate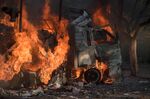 Looters targeted stores in townships around the South African capital, Pretoria, following two days of protests over the ruling party's choice of mayoral candidate for local government elections in August, police said.
Two people were shot and killed in Mamelodi township, the South African Police Service said on its Twitter account on Wednesday. Officers fired rubber bullets in Mabopane to stop looting by local residents, some of whom said they didn't want foreign nationals operating in their area, Johannesburg-based broadcaster eNCA reported.
"We are aware that there's looting of shops," Kenneth Geldenhuis, a clerk at Mabopane police station, said by phone. "People are taking advantage of the situation. We have allocated cars and police officers to go and manage the situation. Most shops are closed."
African National Congress supporters burned tires and barricaded roads since Monday after the party nominated lawmaker Thoko Didiza, a former minister of agriculture and public works, as its candidate for mayor of the Tshwane municipality, which includes Pretoria, instead of incumbent Kgosientso Ramokgopa. The unrest occurs at a time of mounting discontent over a lack of basic services and a series of scandals implicating President Jacob Zuma.
Stores in Mamelodi, Atteridgeville, Shoshanguve, Mabopane and Garankuwa areas were targeted overnight and more than 40 people had been arrested since Tuesday evening, the police service said on Twitter. At least 20 buses and several other vehicles were torched, while a major freeway leading into the capital and a number of other roads were closed for several hours. There were no reports of unrest in the city center, near the government's offices.
Most areas were calm Wednesday and roads had been reopened, municipal police spokesman Isaac Mahamba said.

Defense Minister Nosiviwe Mapisa-Nqakula said Tuesday that the police service stepped up its presence around Pretoria and vowed that the government wouldn't allow the anarchy to continue. ANC Secretary-General Gwede Mantashe described the rioters as criminals who should be arrested and said the party wouldn't reverse Didiza's nomination.
Firm Action
"It doesn't matter whether it started in the ANC or not," David Makhura, premier of the central Gauteng province that includes Pretoria and Johannesburg, said at a briefing. "When the laws of our land are contravened there should be stern action. It doesn't matter what party is responsible. The responsibility of government is to act firmly and that's what we are doing."
The Independent Electoral Commission noted "with grave concern" increasing levels of violence and intimidation in the run-up to the poll.
"Incidents of what appear to be politically motivated murders, assaults and other forms of intimidation of candidates have been reported across a number of provinces including Gauteng, KwaZulu-Natal, Mpumalanga and the North West over the past few days," the commission said in an e-mailed statement. "That some of these acts are being carried out under the guise of defending democratic processes is all the more shameful and incongruent with our democracy."
Opinion Poll
A June 6-7 survey of 3,000 potential voters in Tshwane, Johannesburg and Nelson Mandela Bay by research company Ipsos for eNCA showed the ANC is set to lose outright control of all three municipalities in the Aug. 3 vote. The DA topped the rankings in Tshwane, with 33 percent support, while the ANC polled 28 percent and the Economic Freedom Fighters 10 percent.
"While the ANC is still popular in rural communities, mostly supported by President Zuma's alliances with traditional leaders and many party branch leaders in the countryside, the party has lost significant support in the largest cities," Robert Besseling, the executive director of risk advisers EXX Africa, said by e-mail. "Ahead of the August elections, disgruntled ANC supporters in Gauteng will be motivated by the Pretoria riots to stage further protests to demonstrate the unpopular ANC leadership's decisions."
The rand gained 0.2 percent to 14.6789 per dollar at 3:11 p.m. in Johannesburg on Wednesday. The rand has strengthened for the past three days, as concern eased that the U.K. will vote to exit the European Union -- a move that may adversely affect emerging markets. Credit default swaps for five years, which measure risk, were little changed on Wednesday.
"At the moment, nothing is relevant to the market except the imminent Brexit referendum," Peter Attard Montalto, an economist at Nomura International Plc., said in an e-mailed note. "Nevertheless, we are increasingly concerned about the politically motivated violent unrest."
— With assistance by Paul Vecchiatto
(
Updates with comment by electoral commission in second paragraph after Firm Action subheadline.
)
Before it's here, it's on the Bloomberg Terminal.
LEARN MORE