Photographer: Tomohiro Ohsumi/Bloomberg
Japanese Workers Really Distrust Their Employers
A long economic slump has broken the once-unshakable devotion of the "salarymen."
By
Lifetime employment sounds like a great thing, but not if you hate where you work. That seems to be the plight of Japanese "salarymen" and "office ladies."
Only 22 percent of Japanese workers have "a great deal of trust" in their employers, which is way below the average of eight countries surveyed, according to a new report by EY, the global accounting and consulting firm formerly known as Ernst & Young. And it's not just the companies: Those employees are no more trusting of their bosses or colleagues, the study found. By contrast, about two-thirds of workers in India and Mexico had a great deal of trust in their employers (see chart).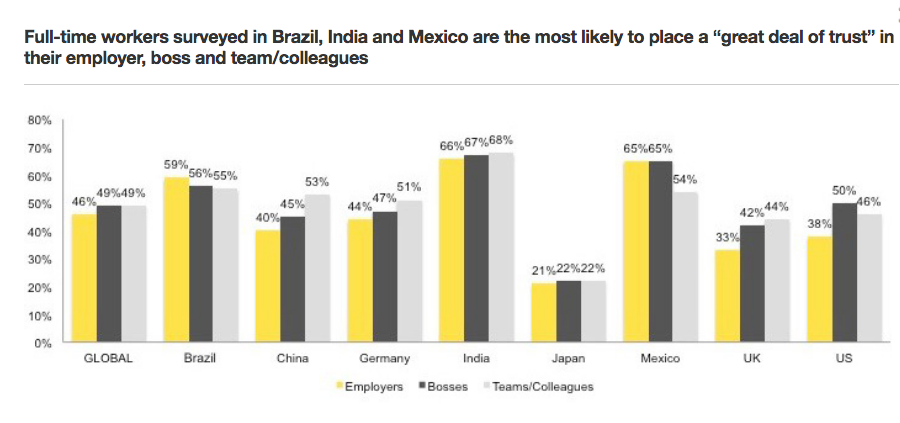 The EY study confirms other research, including Aon's employee engagement survey and Edelman's annual trust barometer, and comes as Prime Minister Shinzo Abe has been looking to shake up Japan's hidebound corporate culture. The irony is that Japan was identified as a high-trust society by Francis Fukuyama in his 1995 book, Trust: The Social Virtues and the Creation of Prosperity. That may have been true once, but Japan's long economic slump, which had already begun by the time Fukuyama's book came out, seems to have worn away that goodwill. (Fukuyama, a professor at Stanford University, didn't immediately reply to an e-mail about the findings.)
In Japan's hierarchical workplace, employees are often expected to linger in the office as long as the boss is still there, even if they have nothing to do. "This follow-the-leader ethic starts to look a little sketchy if your boss is not delivering," says Marcus Noland, executive vice president and director of studies at the Peterson Institute for International Economics, who analyzed the survey findings for EY.
On the other side of the scale, economic growth in India and Mexico may be a key reason why workers there feel better about their employers. The U.S. was close to the average of the eight countries studied.
Karyn Twaronite, EY's global diversity and inclusiveness officer, said the survey found that one of the worst destroyers of trust was employer failure to keep promises made to their workers. The obvious solution, she said, is for employers to keep their promises—and to "be transparent" when things aren't going well.
Before it's here, it's on the Bloomberg Terminal.
LEARN MORE