How Trump's Business Logic Dissipates When It Comes to Mexico
By and
Monterrey is a manufacturing story getting lost in translation

City thrives on lower production costs, educated workforce
Kick at the loose soil on the edges of Monterrey, Mexico, these days and you're less likely to turn up rattlesnakes or tarantulas than in the days before the fruits of Nafta transformed it into the object of Donald Trump's scorn.
The presidential candidate, critical of Midwestern U.S. manufacturers Carrier Corp. and Mondelez International Inc. for seeking lower-cost production, would find more than enough gleaming glass and metal to suit his design aesthetic. It's got practically everything you would want in a model modern industrial powerhouse, except to those who need a passport to get there.

With rail and road infrastructure to match or top major U.S. cities, a university known as the MIT of Latin America churning out plant managers -- all with labor costs significantly less than are found north of the Rio Grande -- and an increasing inability in the U.S. to fill open jobs, the question for Trump, economists and Carrier isn't why you would move your work to Monterrey, but why wouldn't you?
"Sometimes foreigners come here thinking that we're running sweatshops, wearing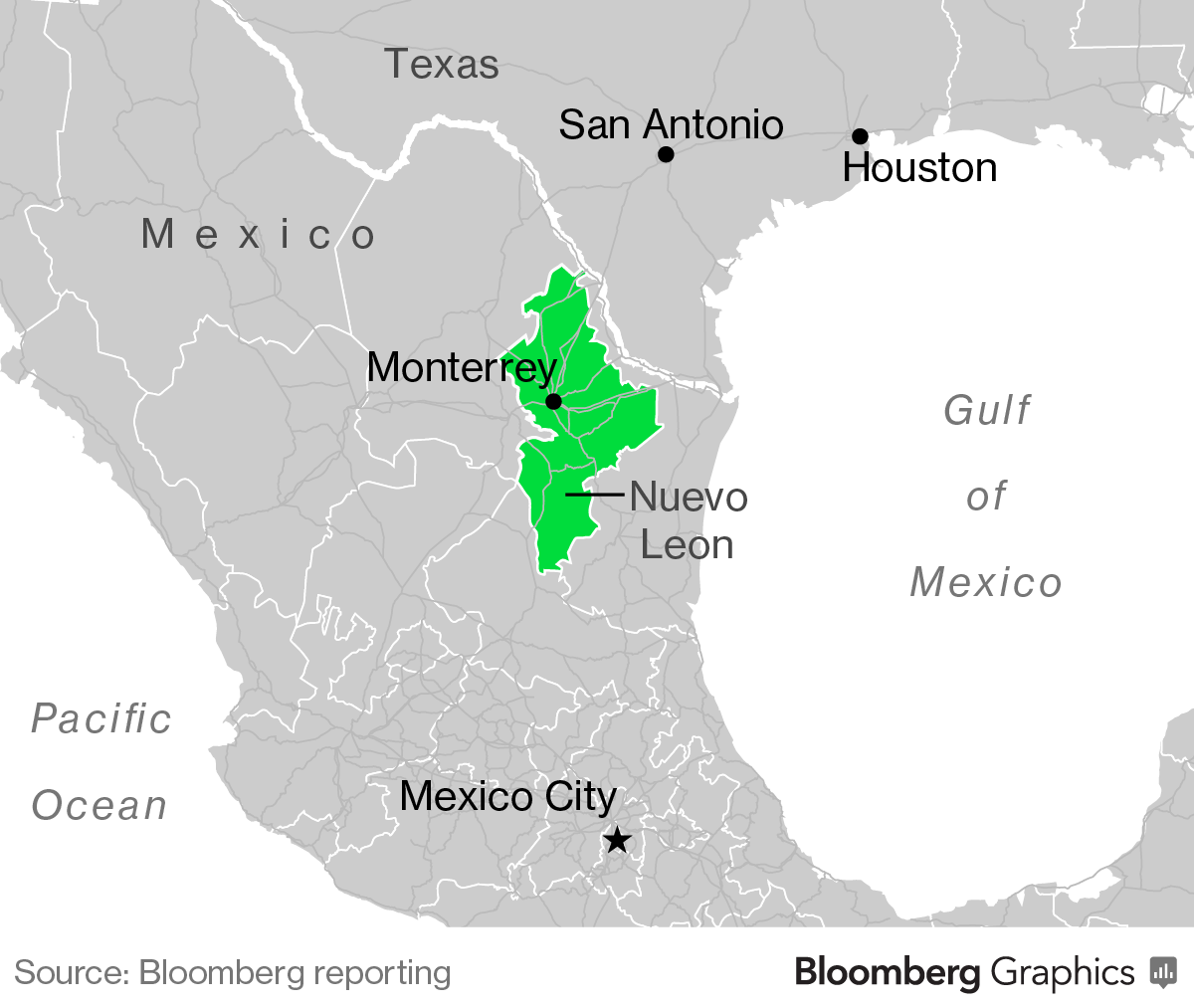 serapes and riding donkeys," said Mauricio Garza, director of the Interpuerto industrial park that's home to a plant for Mondelez. "That certainly isn't the case. Here in Monterrey, you find what you need in order to compete with any part of the world."
The effects of the North American Free Trade Agreement have elevated Monterrey, long a home for national champions such as cement maker Cemex SAB, to a new level of sophistication with a seemingly endless supply of qualified workers. By serving up better business conditions than American Rust Belt cities, with less expensive manufacturing sites and little tradeoff in knowledge or production quality, the metropolis of more than 4 million people just two hours' drive from the Texas border is making that competition easy. This might explain why companies like Kia Motors Corp. and Lego Group are building or expanding factories on the city's outskirts.
Monterrey is in the state of Nuevo Leon, which has attracted more than $40 billion in foreign direct investment since 1999, according to data from Mexico's economy ministry. That's the most of anywhere outside greater Mexico City, the nation's capital, which has five times Monterrey's population. Nuevo Leon's economy grew 6 percent in 2015, more than double the national pace.

In the tawny San Pedro Garza Garcia district, the base for corporate offices and already among the richest residential neighborhoods in Latin America, the skyline is dotted with cranes and the skeleton of a 65-story tower that's set to be Mexico's tallest -- at least until the completion of a taller nearby building that's just getting under way.
If low-cost labor was the only thing companies were looking for, they could easily go to less developed states in the south, like Oaxaca and Chiapas, or even closer to the U.S. border in Ciudad Juarez and Tijuana, Garza said.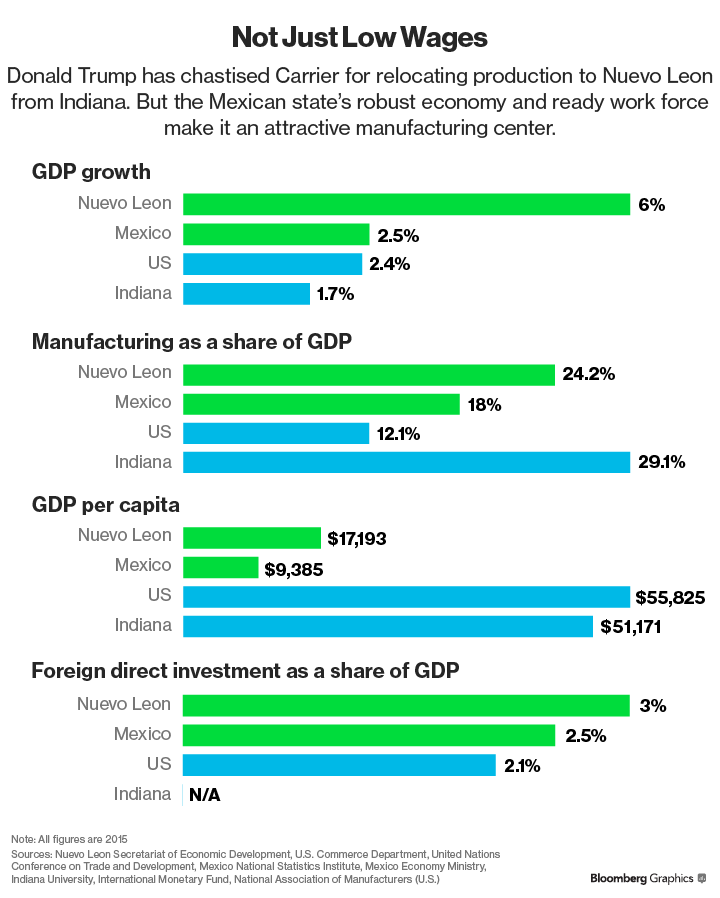 The Trump campaign didn't immediately return an e-mail request seeking comment. Carrier's decision to move 1,400 jobs, citing competitive pressure, also came in for criticism from Democrat Bernie Sanders. Hillary Clinton, whose husband signed Nafta into law, has herself taken aim at the Trans-Pacific Partnership trade agreement that would build on the 1994 deal by linking the U.S., Canada and Mexico with nine other Pacific nations, including Japan.
As U.S. companies shop elsewhere for labor, the promise of Mexico has become a more attractive option at the expense of countries like China. Making a comparison that controls for productivity -- which enhances the picture of economic efficiency -- Mexico's labor cost has barely changed in the past 16 years while China's has steadily risen, according to figures from the Boston Consulting Group.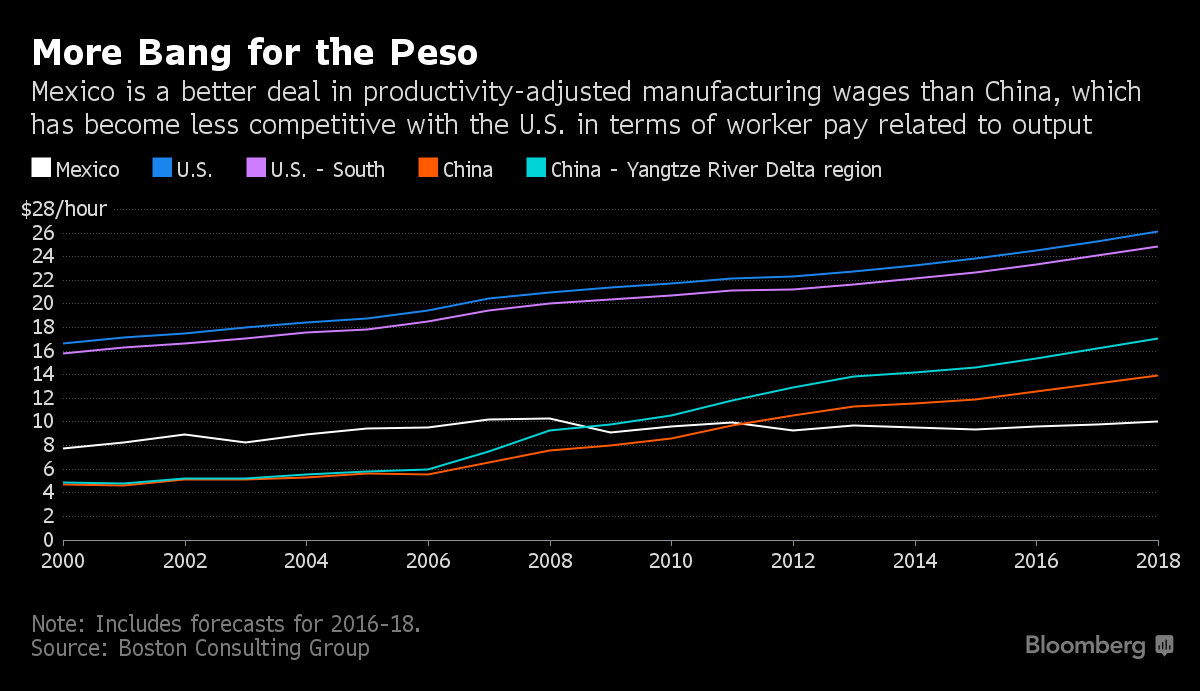 This calculation has become more valuable as companies have compared global costs more holistically, said Justin Rose, a Chicago-based partner at the consulting firm. "They're really thinking about total operating costs rather than just raw wages," he said.
Michael Hicks, an economics professor at Ball State University in Muncie, Indiana, an hour's drive from Carrier's plant, said there's not enough discussion about the benefits of higher productivity -- what he refers to as "welfare gains."
"It's better to live in a world where people are more productive and make more things with less cost than it is otherwise," Hicks said. "I think that's often missed in the Trumpian debate."
A Bigger Pie
A more productive environment offers more disposable earnings, he said, freeing income for daily household purchases or for "broader societal public goods, like health care."
"We ought to do things about having a bigger pie first, then argue about who gets what," Hicks said.
U.S. factories have meanwhile been frustrated by the lack of skilled labor at home. The rate at which American manufacturers posted job vacancies reached a record in April, and the level of those listings was at a 15-year high, showing managers were having trouble finding the right candidates, according to figures released June 8 by the U.S. Bureau of Labor Statistics.
Mexico's manufacturing in the first years of Nafta was largely focused on labor-intensive goods such as clothing, sometimes under harsh working conditions. Over time, production processes have become more technologically advanced, incorporated into intricately designed cross-border supply chains, particularly in northern Mexico, said Ted Moran, a senior fellow at the Washington-based Peterson Institute who worked on the policy-planning staff at the U.S. State Department as Nafta was being drafted.
Schools, too, were smarter about co-designing curricula with auto companies in Monterrey so students could be hired upon graduation, he said.
Monterrey has one of the most educated workforces in Latin America, with English proficiency and income levels that easily exceed the rest of Mexico.
Education Gap
That said, Mexico's absorption of production jobs from China might indicate the country has fallen behind in developing high-technology positions, even if Monterrey shows promise, said Andres Garcia-Amaya, a global market strategist at JPMorgan Investment Management.
"Unfortunately, it becomes a whole other realm of: China has a better educated workforce, they're moving up the learning curve faster, and Mexico isn't," said Garcia-Amaya. "They're taking back the old jobs but doing the things that don't pay $80 an hour but that pay $8 an hour."
Another area where Monterrey suffers in its reputation is security. Once considered the safest city in Latin America, it saw a surge in murders from 2009 to 2011 amid fighting between drug cartels. With the local government losing control of law and order, companies stepped in, working with officials to build a new police force. While homicides fell by 81 percent from 2011 to 2015, ensuring basic public security is something companies wouldn't face in the U.S.
For the companies that come, it's "not just price, it's quality of labor," said Timothy Zuniga-Brown, head of the U.S. Consulate General in the city. "It's not just an educated workforce, but it's also a very stable, very disciplined, high-quality workforce. The lack of turnover at some of these companies is remarkable."
Labor Stability
According to the state economic development ministry, the city hasn't had a strike in 18 years.
Mondelez also drew Trump's ire last year by moving jobs from Chicago. Caroll Phillips, the company's corporate communications manager for Mexico, said in an e-mail that the factors that make the Monterrey area attractive include its proximity to the U.S. and its transportation infrastructure, as well as universities such as the Technological Institute of Monterrey. Carrier declined to comment for this story.
Monterrey is northern Mexico's biggest rail hub. Lines from Kansas City Southern and Ferromex, Mexico's largest railway by mileage, link the city with Laredo and Brownsville, Texas; the Gulf Coast seaport of Altamira -- one of the fastest-growing in North America; and the Pacific port of Lazaro Cardenas. The rail links were first developed more than a century ago to serve Monterrey's steel, cement, beer and glass industries, precursors to today's high-technology manufacturing.
"Monterrey is a global center for manufacturing, like Chicago, Detroit, Milan or Shanghai," says state economic development secretary Fernando Turner. "Companies recognize the talent we have here."

East of Monterrey's international airport -- now serving New York, Los Angeles and Tokyo -- Kia has built a $1 billion plant with a surface area of about 500 football fields that aims to produce 300,000 Forte sedans and hatchbacks per year, largely for the U.S. market. While the company already had a plant in Georgia about 80 miles (130 kilometers) southwest of Atlanta, it chose Monterrey for the next factory and broke ground in 2014. The first car rolled off the assembly line in May.
Pay Scale
While Kia declined to reveal its compensation, two men who work as technicians and who asked not to be identified said pay begins at 233 pesos ($12.50) a day for the most basic maintenance tasks in metal stamping and welding doors, with a regular schedule of increments based on time on the job. While that's not much compared with the U.S., where the federal minimum wage is $7.25 an hour, it's about three times Mexico's current minimum wage and higher than the starting levels in some cities.
Miguel, a 29-year-old machine operator who asked not to give his last name and current employer because he wasn't authorized to speak about the company's policies, said he has earned 150 to 300 pesos a day over 11 years of working in manufacturing. That's enough to afford a car and a home for him and his wife, he says. Yet things like going out to dinner or to see a movie require saving up.
Still, Miguel says his employers, including U.S. companies, have treated him well.
"I can't complain," he said, standing in the hallway of a Monterrey shopping mall on a recent Friday afternoon. "I don't feel like I've been exploited. If I don't like a job, I can leave and find another within a couple weeks. You aren't waiting six months or a year. There's a lot of demand."