Chinese Stocks Advance Most in Week as Traders Weigh Brexit Odds
Bloomberg News
Coal producers, technology companies rally most in Shanghai

HSBC, HKEx pace gains in Hong Kong before U.K. vote on EU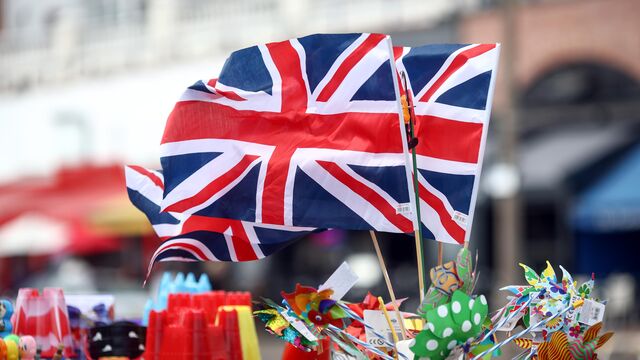 China's stocks rose the most in a week, while Hong Kong's equities extended gains to a fourth day as traders weighed the odds of Britain staying in the European Union.
The Shanghai Composite Index advanced 0.9 percent at the close, led by energy companies. Technology and small-company shares also rallied, sending the ChiNext index to its highest level in two weeks. The Hang Seng Index climbed 0.6 percent. HSBC Holdings Plc paced gains for lenders. Hong Kong Exchanges & Clearing Ltd., which received about a fifth of its revenue from the U.K. last year, jumped the most in almost a month.
Stocks added to gains in the afternoon even as opinion polls and financial markets grew divided about the likely Brexit outcome. While an index of betting flows compiled by Oddschecker shows the chance of leaving has fallen to 26 percent from 43 percent since June 14, polls say the race is too close to call. Asian nations such as China with slowing growth, high reliance on EU exports and exposure to capital flight look most at risk, according to Bloomberg Intelligence. Li Ka-shing, Hong Kong's richest man, stepped up his calls for Britons to vote in favor of staying as the world braces for the outcome of tomorrow's vote.
"Investors tend to be more positive regarding the U.K. referendum now, which is contributing to the advance in the stocks," said Ronald Wan, chief executive at Partners Capital International Ltd. in Hong Kong. The higher oil price is supporting some energy companies, he said.
Trading Rebounds
In mainland trading, the ChiNext jumped 2.5 percent. The Shenzhen Composite Index advanced 1.7 percent. Hong Kong's Hang Seng closed at the highest level since June 10, while the Hang Seng China Enterprises Index increased 0.7 percent. Turnover picked up in Hong Kong, with trading volumes in the benchmark rising 13 percent from the 30-day average.
Shenzhen-based technology companies and small caps rallied amid lingering speculation a stocks link between Hong Kong and Shenzhen will be announced soon, said Partners Capital's Wan. Hong Kong is "about to take the second step with the Shenzhen-Hong Kong stock connect later this year," HKEx Chief Executive Officer Charles Li said on the exchange's website on Wednesday.
"A lot of investors have been betting that the Shenzhen-Hong Kong link will be announced" as early as July, said Wan.
China Impact
A gauge of energy producers in the CSI 300 Index advanced 1.6 percent for the steepest gain among 10 industry groups. Yanzhou Coal Mining Co. surged by the 10 percent daily limit, while China Coal Energy Co. added 3.2 percent. China Shenhua Energy Co. soared 6.2 percent to lead gains for stocks in the Hang Seng. Oil traded near $50 a barrel as U.S. industry data showed crude stockpiles declined, trimming a glut.
China, with its slowing growth, significant capital outflows and substantial exports to the EU, scores as one of the most vulnerable, Bloomberg Intelligence analysts Fielding Chen and Tom Orlik wrote. The small, open financial centers of Hong Kong and Singapore are at the highest risk, they said.

HKEx Jumps
HSBC, which is also listed in London, advanced 1 percent in Hong Kong. The lender is among several Hong Kong-listed companies with the highest correlation between their share prices and pound moves. HKEx climbed 1.9 percent. The city's bourse operator generated 20 percent of its revenue from the U.K. in 2015, according to data compiled by Bloomberg.
The prospect of Brexit may cause difficulties for Chinese policymakers, given the likely turmoil in financial markets that would follow a British vote to leave. Sharp declines in the yuan -- already trading near a five-year low -- would prompt intervention by the nation's central bank, according to Roy Teo, a senior currency strategist at ABN Amro Bank NV.
"The U.K. referendum is just around the corner and the result is still highly uncertain," said Liu Xuezhi, an analyst at Bank of Communications Co. in Shanghai.
China will continue its prudent monetary policy this year and continue two-way opening of capital markets, the People's Bank of China said in a report released Tuesday. The government is planning opening measures that may allow foreign firms to list shares in the nation, it said. The monetary authority didn't give a time frame for the move.
— With assistance by Tian Chen
Before it's here, it's on the Bloomberg Terminal.
LEARN MORE