Gupta Family Says South Africa Minister Meetings Not Problem
by
Ajay Gupta met with cabinet members 'many times' on issues

South African regulators seek details on bank accounts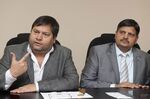 A member of the Gupta family, who are friends of South African President Jacob Zuma, said his routine meetings with cabinet ministers didn't mean he wielded any undue influence over the government as critics have alleged.
Ajay Gupta, 50, served on the board of Brand SA, South Africa's international promotion agency, and met with ministers "many times," he said.
"Every first Sunday of the month, we used to sit in the presidential guest house" with cabinet members, he said Wednesday at a televised morning panel hosted by the Gupta-owned The New Age newspaper in Johannesburg. "We all sit together and discuss the country and what best we can do for the country."
South African regulators are seeking details from India's Bank of Baroda of accounts belonging to businesses owned by the Gupta family, a person close to the bank with knowledge of the situation said June 13. The four biggest banks in the country said this year they would stop doing business with the Guptas, without saying why. KPMG LLP also halted its audits of Gupta-controlled companies.
'State Capture'
Public Protector Thuli Madonsela said this month she is awaiting funding to begin an investigation of what critics describe as "state capture" by the Guptas, who are in business with Zuma's son. The ruling African National Congress dropped a probe into the family's role in government business after only one person made a written submission claiming undue influence, Gwede Mantashe, the party's secretary-general, said on May 31.
Deputy Finance Minister Mcebisi Jonas alleged that Gupta family members offered him the post of finance minister. The Guptas denied any wrongdoing, and Zuma has said only he has the power to appoint ministers.
The scrutiny has had a significant effect on the family businesses, Ajay Gupta said. When the family met with its management team, they agreed that the Gupta name had become a problem for the businesses.
In April, Atul Gupta and Varun Gupta resigned their positions at Johannesburg-listed Oakbay Resources and Energy Ltd., which is 80 percent owned by the Gupta's Oakbay Investments.
"Let's go. Let us resign," he recalled telling his management team. "You run the business." Just one percent of the family's business is with the government, he said. "So how do we capture? I don't understand."
Before it's here, it's on the Bloomberg Terminal.
LEARN MORE