Gold Catches Nap Before Brexit Wake-Up Call as Price Swings Ebb
by and
Gold's 30-day volatility near lowest since mid-December

Bigger price swings seen returning as vote results come in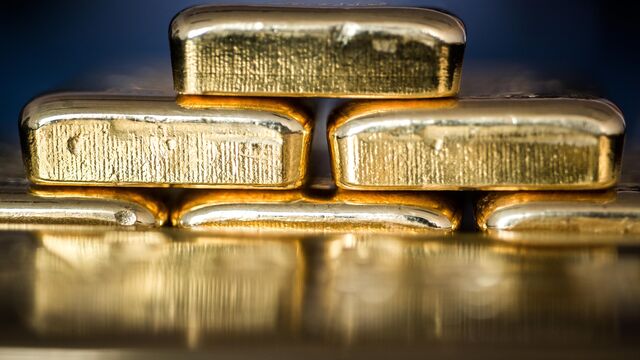 Gold has gone quiet again, only this time, it could be just the calm before the storm.
QuickTake Gold's Ups and Downs
The metal's 30-day historical volatility is near the lowest since December as U.K. voters head to the polls to decide whether to leave the European Union. Aggregate trading in futures was 27 percent below the 100-day average for this time. The calm may be upended once results of Thursday's vote start coming in, analysts including Bernard Sin at MKS (Switzerland) SA said.

Bullion futures climbed to the highest in almost two years last week as global central bankers sounded the alarm that a decision for the Britain to exit the EU could be disruptive to the global economy. Demand for haven assets has waned this week, with gold prices retreating for a fifth straight session Thursday.
"The markets have already priced in an expectation that the referendum will be for Britain to stay in the EU," Jeffrey Nichols, a New York-based senior economic adviser at Rosland Capital LLC, said in a telephone interview. "If they stay in, that's going to be a non-event. If they try to exit, we could have a very volatile reaction in financial markets, including gold. We'll just have to wait and see."
Gold futures for August delivery slipped 0.5 percent to settle at $1,263.10 an ounce at 1:40 p.m. on the Comex in New York. The 30-day historical volatility was at 13.36 Thursday, after reaching 12.624 on June 20, the lowest since Dec. 15.
Traders and analysts are split on bullion's outlook. In a weekly Bloomberg survey, five were bullish, six were bearish and the same number neutral. While investors are on the sidelines for now, trading may jump as results come in, said Simona Gambarini, a commodities economist at Capital Economics Ltd. in London.
"The next 24 hours are going to be very interesting, we're expecting volatility," said Sin, head of precious-metals trading at MKS (Switzerland) in Geneva. "Gold could move rather rapidly on any news, and even now, prices are looking a bit erratic and irrational."

In other metals news:
Holdings in exchange-traded funds backed by gold fell 0.8 metric ton as of Wednesday, the first decline since May 27, data compiled by Bloomberg show. They dropped from the highest since October 2013.
Silver futures gained on the Comex, while palladium advanced and platinum fell on the New York Mercantile Exchange.
Before it's here, it's on the Bloomberg Terminal.
LEARN MORE