Unsolvable
Frankenburger Comes Eerily to Life in the Lab
Patty made of plants, with clues from cows, bleeds just like the real thing.
by and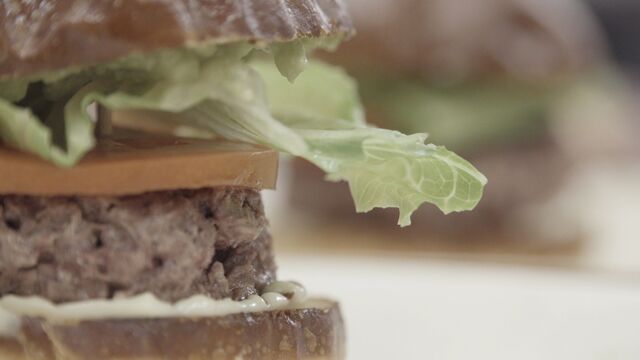 Impossible Foods produces a convincing burger. It looks like meat, it tastes like meat, it bleeds like meat.
No part of this burger comes from a cow. "Using animals to produce food is having a terribly destructive impact on the environment," says Pat Brown, Impossible's founder and chief executive officer.
But Brown doesn't think the problem is our taste for meat. It's how that meat gets made.
So how do you do without the beast? Impossible Foods started by breaking beef down into its chemical components, then tried to identify plant sources it could use to re-create those components. It plans to sell burgers in restaurants in New York City, San Francisco, and Los Angeles this year.

For more of the Unsolvable series, see: The Bio-Plastics Revolution Starts in This Lab and Watch These Synthetic Leaves Suck CO2 Out of the Sky.
(Updates to clarify contents of patties in subheadline.)
Before it's here, it's on the Bloomberg Terminal.
LEARN MORE