Even Tokyo's Bourse Head Has a Yen View as Brexit Vote Nears
By
Japan's Topix has fallen more than U.K., U.S. shares in June

Topix could drop 12 percent in event of Brexit: Morgan Stanley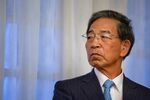 Even the head of Japan's stock exchange is getting worried about the yen.
The currency, bourse head Akira Kiyota said this week, may strengthen to 100 per dollar if the U.K. decides to leave the European Union. The bourse, he said, is bracing for a huge strain on its trading system and will do everything it can to ensure it doesn't crash.
While Britons hold their destiny in their own hands, that's more than can be said of Japanese stock investors. Tied to the yen as a haven currency, the market is a weather vane for any bit of bad news in the global economy. Debt burdens in Greece, budget breakdowns in the U.S., and Russia's incursion into Crimea have all sent Tokyo stocks lower in recent years. Add that most trading in Japan is done by foreigners, and it's perhaps understandable that Japan Exchange Group Inc. was prognosticating on exchange rates.
"If Brexit happens, the market will lose control," said Tsutomu Yamada, a market analyst at Kabu.com Securities Co. in Tokyo. "The yen will strengthen, stocks will fall and investors will go helter-skelter."
Global fear is already punishing Japanese stocks. Separate polls showing leads for both sides of the debate sent the yen on one of its longest rallies under Prime Minister Shinzo Abe's reign. That's led the Topix index to tumble almost 7 percent this month, while the S&P 500 Index is down less than 1 percent and the U.K.'s FTSE 100 Index is up. Average daily trading volume in Japan has shrunk to 1.9 billion shares a day this month, about 17 percent lower than the past year's average.
The Topix rose 0.3 percent as of 9:26 a.m. on Thursday in Tokyo, as investors awaited voting results.
Click here for a guide on what to look out for on the night of the vote count
Morgan Stanley warns that should Britain opt to leave the EU on Thursday, losses on the Topix will be bigger than MSCI indexes for China, Asia-Pacific excluding Japan and emerging markets. The Topix could plunge 12 percent in two weeks because of the yen, which could jump to as high as 90 per dollar by year-end, the brokerage's strategists led by Jonathan Garner wrote.
"We believe yen strength and market volatility would impact Japanese GDP," Garner said in his note on June 20.
History shows the damage that can be done. During 10 crises that have rocked global markets -- including Black Monday in 1987, the Asian currency crisis of 1997 and 2008 subprime loan crisis -- the Topix plunged 12 percent on average, overseas sales declined by 3.3 percent and foreign ownership ratios sank 2.6 percent, an analysis by SMBC Nikko Securities Inc. shows.
Toyota Exports
And it's not just the yen that's a problem. Toyota Motor Corp., the country's biggest company, said Brexit would cause it significant challenges as most of its cars built in the U.K. are exported to the EU, meaning an exit from the bloc would add levies and hurt sales. Brokerage Daiwa Securities Group Inc. said it would have to set up a business in the EU that replicates or replaces some functions in London if Britain votes to leave the bloc.
Japanese shares have already factored in the risk of a U.K. exit and if the vote goes that way, it would be an opportunity to pick up stocks, Chisato Haganuma, a strategist at Mitsubishi UFJ Morgan Stanley Securities Co., wrote in a report on June 17. The Topix trades at 13 times estimated earnings, cheaper than those on the S&P 500 and Europe's Stoxx 600 Index.
The majority of investors believe the U.K. will ultimately choose to stay in the 28-nation bloc, says Naoki Fujiwara at Shinkin Asset Management Co., in which case the yen is likely to weaken and exporters will surge. The currency traded at 104.71 per dollar at 9:21 a.m. in Tokyo on Thursday. If the Brexit votes win out, Ichiro Yamada is bracing for an outsized reaction.
"Japanese stocks will fall further than U.S. shares," said Yamada, general manager of equities at Fukoku Mutual Life Insurance Co. "Brexit doesn't have a whole lot to do with Japan, but its equities can't escape being affected by the yen."