Currency Traders Face 3 a.m. Singapore Start for Brexit Results
by
UBS, Oanda, Macquarie among those calling traders in early

Global leaders, Soros have warned Brexit vote will roil market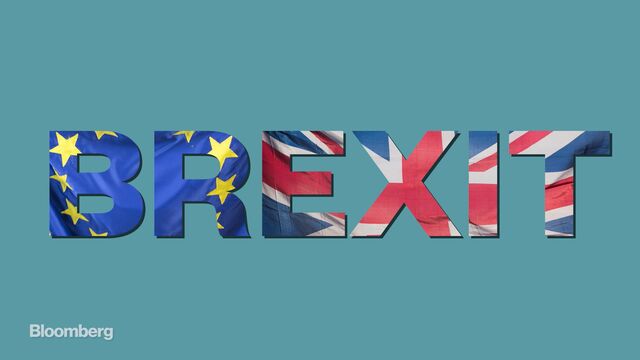 As the U.K. decides on its future in or out of the European Union, currency traders and analysts thousands of miles away in Asia, will be at their desks well before dawn.
Voting is scheduled to close at 10 p.m. in the U.K. on Thursday, or 5 a.m. in Singapore on Friday. Traders and analysts in the region's biggest foreign-exchange center are bracing for potential turmoil in the 24-hour global foreign-exchange market as the bulk of the results are expected to be in by 10:30 a.m. in the Asian city. With the outcome too close to call based on the latest polls, they are preparing for global fallout should Britons vote to withdraw from the world's largest trading bloc.
UBS Group AG, the world's third-biggest currency trader, will have a fully-staffed trading desk in Singapore by 5 a.m. on Friday as traders start work about an hour earlier than usual. At Oanda Corp., a retail foreign-exchange broker, staff will be at their desks in the city state as early as 3 a.m. In the past two years, dealers had to endure votes on Scottish independence, the Swiss National Bank's gold policy and a Greek bailout plan, all of which had results announced outside normal trading hours in many local markets.
"Building upon those experiences, we start to understand the things that can go wrong during these times of extreme volatility," said Anthony Hall, regional head of foreign exchange, rates and credit in Asia Pacific at UBS in Singapore. "This is definitely an event that I've seen more preparation for than previous ones."

Governments, central bankers and investors including billionaire George Soros have warned that a British vote to leave the EU would roil currencies, equities and commodity markets. A JPMorgan Chase & Co. gauge of global exchange-rate volatility has averaged about 11 percent this year, the most since the European debt crisis in 2011.
Stephen Innes, a senior trader at Oanda in Singapore, plans to be in the office as early as 3 a.m. Friday, about two hours earlier than his usual start. Oanda's team in New York will be staying late as events unfold and the London traders will be starting at 4 a.m. local time.
"We're going to have a full complement of staff throughout the globe to manage this potentially high-risk event," Innes said. "We're going to have a pre-huddle before the event to figure out our strategy, primarily make sure our e-systems are up and running and that everything is well oiled."
The pound reached the strongest level this year hours before the historic vote was set to begin. Sterling advanced 0.7 percent to $1.4811 at 10:13 a.m. in Singapore, after reaching $1.4844, the strongest level since Dec. 31. It remains the worst performer in 2016 among its Group-of-10 peers.
Gauging Liquidity
While Oanda's Innes expects price moves to be exaggerated, central bankers have said they stand ready to pump liquidity into the system if funding dries up and several warned of the potential for disruption in the event of a "Leave" vote. Swiss National Bank President Thomas Jordan said last week his organization is ready to intervene to cap any franc gains and noted the bank's 24-hour operation -- which includes a trading desk in Singapore.
"We have tightened trading limits," said Wu Mingze, a foreign-exchange trader in Singapore at INTL FCStone Inc., a Nasdaq-listed global payments service provider. "There's a risk of potential huge money losses if positions become illiquid."
Nizam Idris, head of foreign-exchange and fixed-income strategy at Macquarie Bank Ltd. in Singapore, plans to be in an hour early at 5 a.m. on Friday and won't be having any coffee to keep him awake throughout the day as he will be fasting for Ramadan. He will have his pre-dawn meal of oats in the office.
"There hasn't been a precedent to refer to as this is potentially a big event for Europe," he said, adding that he will provide research support for the sales and trading team should the market become volatile.
Lehman Redux?
Still, at least one investor thinks there is a precedent -- the 2008 bankruptcy of Lehman Brothers Holdings Inc.
"The risk in the event of Brexit is so big it's unhedgeable," said Fabrizio Fiorini, chief investment officer at Aletti Getielle SGR SpA, which oversees $18 billion. "The impact could be as big as the collapse of Lehman Brothers, and I think the market has underestimated that."
For Fiorini, a vote to leave would spur an exodus to the dollar and that would hurt China, sap commodity prices and spark disruptions in emerging markets. The trouble would then ripple through the global economy.
At UBS, other departments including technology support, will also be gearing up for higher volumes on Friday, Hall said, while traders in New York will be staying late to provide assistance even after handing over trading to Asia. The bank is prepared to get its traders and support staff in Singapore to come in early again on Monday if developments over the weekend are likely to prolong any turmoil, he said.
"Things will be more volatile, and volatile for longer if Britons choose to leave," he said. "It will be volatile but probably for a shorter period of time if they remain in it."
Before it's here, it's on the Bloomberg Terminal.
LEARN MORE