Brazil Real Advances as Temer Scores Victory in Senate Debate
by
Currency also follows rally in emerging-market assets

Pension payout cuts would boost confidence, Temer says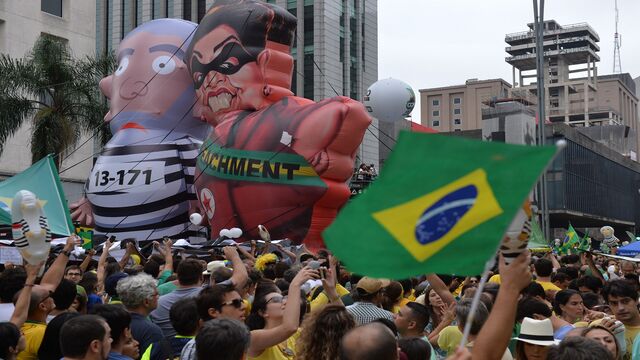 Brazil's real followed a rally in emerging markets after the government scored another win in the Senate, increasing confidence the new administration has enough support to shore up the country's finances following last year's credit-rating downgrade to junk.
The currency rose 1.1 percent to a two-week high of 3.3777 per dollar on Wednesday. A gauge of emerging-market currencies gained as the U.K. entered the final day of campaigning before its referendum on European Union membership.
The real is the best performing currency in the world this year, climbing 17 percent as investors bid up Brazilian assets on speculation that a change in government would help the country emerge from its worst recession in a century. On Tuesday, the Senate gave Acting President Michel Temer another win in Congress as lawmakers voted to reverse changes made by Lower House in a bill regarding the accountability of state run companies and approved it close to its original form, according to O Estado de S. Paulo.

"Assets such as the real are appreciating due to the 'Bremain,' which fosters a risk-on environment," said Mauricio Oreng, a senior strategist at Rabobank in Sao Paulo. "Of course, the recent political victories in Brazil also help."
Temer, who took over Brazil's top job last month when the Senate decided to open an impeachment trial against his predecessor Dilma Rousseff, has said he wants to reduce spending and shrink the budget deficit. That would boost confidence in a country suffering from almost double-digit inflation, rising unemployment and a corruption probe known as Carwash that has landed top politicians and business executives in jail, he said in an interview that aired Tuesday night on television channel GloboNews.
Brazilian swap rates on the contract maturing in January 2018, a gauge of expectations for interest-rate moves, advanced 0.03 percent to 12.69 percent.
Before it's here, it's on the Bloomberg Terminal.
LEARN MORE