Spend
The Biomega OKO Is the Perfect Bike for City Commuting
A hidden, rechargeable engine gently boosts you as you pedal, and simple design choices ensure that your clothes remain mud-spatter free.
By and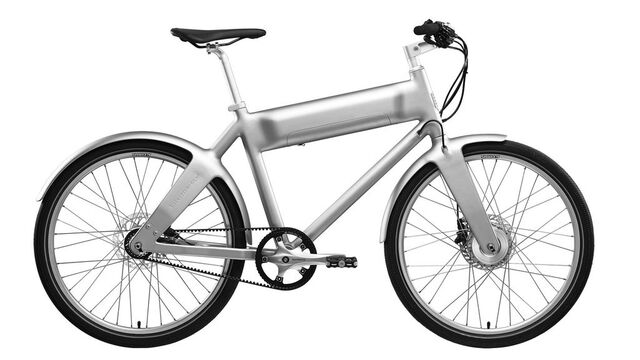 Key Details: A handsome, rechargeable electric bike designed by Danish architects designed for improved city commuting.
Competitors: The Stromer ST S($9,500), the Prodeco V5 Phantom X2 8 Speed Folding Electric Bicycle ($1,650).
Price: $2,295.
Why It's Worth It: The bike is on the cheaper end for electric bikes, and it looks better and is lighter than most. Plus, key design features will protect your work clothes from mud spatter as you commute.
Do you ever feel like you are the kind of person who might bike to work if it didn't involve so much… pedaling?
After all, who wants to show up to the office looking sweaty and disheveled?
Biomega, the Danish bicycle maker, has teamed up with the design firm KiBiSi to offer you a solution. The new OKO electric bike features a 250-watt rechargeable motor that propels the 8-speed bike when you pedal it. The engine is integrated into the sleek frame, so a casual onlooker might not even know you're getting help.

This is a bike that is made for city commuting. The large fenders will protect your back from mud spatter, and by opting for a carbon belt drive instead of an oily chain, the designers saved your pant cuffs, too. The frame and fenders are made from one continuous piece of super-strong carbon, and the while thing only weighs 40 pounds. And if it looks like it's from the future, that shouldn't surprise you—space-age architect Bjarke Ingels is one of the designers behind it.

I tested the OKO in East River Park in Manhattan, and on my commute to the office. It works incredibly smoothly. A simple toggle on the handlebar allows you to boost the power in two degrees, and the torque kicks in about a second after you push down on the pedal. It feels like some invisible giant is pushing you along, and it was fun to scoot past serious cyclists in lycra on expensive Italian bikes.
The engine powers the front wheel, but otherwise it works like a normal bike. Biomega estimates you can reach speeds up to 25 mph, but I wouldn't try for anything close to that in city traffic. The Shimano hydraulic disk brakes work well, whether you're using the electric power or not, and the ergonomic saddle and thick tires make for an easy ride. Just look out for potholes—this isn't a mountain bike, and it doesn't have any real kind of suspension.
The OKO starts at $2,295 and comes in white or silver. I'd opt for the silver, as the white shows any specks of mud when dirty—and can look a little orthopedic even if it's clean. But when you're whizzing by commuters stuck in traffic, the only thing people are going to see is your back—and it will be spotless and sweat free.
The Biomega OKO is available from Austere.co.
A previous version of this story stated that the Biomega OKO can reach speeds up to 40 mph. It can reach 25 mph.
(
Corrects speed in the sixth paragraph. The Biomega OKO can reach speeds up to 25 mph, not 40 mph.
)
Before it's here, it's on the Bloomberg Terminal.
LEARN MORE