Baidu Creates Own Indexes to Paint Picture of China's Economy
David Ramli
Combining search and location data to outline unemployment

Economy and consumer indexes can help businesses, investors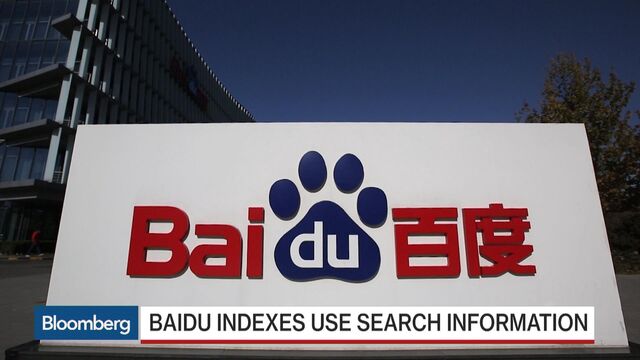 Baidu Inc. is using its own trove of data to measure China's economy, devising new gauges that may paint a better picture than the government's.
The country's leading search engine has begun using location and search information collected from its more than 600 million users to create indicators and indexes it says could shed light on what's happening with the world's second largest economy.
Investors and analysts have long questioned the veracity and methodology of China's government-issued statistics. An example is jobless data, with an unemployment rate staying between 4 percent and 4.3 percent in every quarter since the end of 2002, through a domestic boom, the global financial crisis and now an economy growing at its slowest pace in 25 years.
"The economy is slowing down but the unemployment rate published by the government remains steady about 4 percent," senior data scientist Wu Haishan said. "So a lot of people are suspicious about that data."
As a company that handles 70 to 80 percent of all online searches in China, Baidu amasses enormous quantities of data -- information it now wants to put to use commercially and scientifically. The company is among the country's leaders in artificial intelligence and big data application and it hopes to employ that to further its lead in the domestic internet arena.
Baidu's Big Data Lab will use its tracking of people across the country to help produce new measures of China's economy. Those include its own employment index, and a consumer spending index that will be issued monthly starting late June or early July alongside additional measures tracking key consumer segments. More advanced versions of the data could be sold to investors willing to pay for that extra edge.
"Machine-learning algorithms are utilized to identity the employee, consumer and passersby,"' he said.
Starting from simple location data and gradually adding other clues such as search destinations and keywords, Baidu says its data scientists can make pretty accurate estimates about everything from a shopper's purchasing intent to staffing levels in a factory. The Chinese search service handles more than 25 billion location requests from some 700 million users daily, with that data stored on servers, Wu said. Data from general internet searches will be combined in future to boost accuracy.
While other companies such as e-commerce leader Alibaba Group Holding Ltd. and payments network UnionPay run indexes off their own data, Baidu has experience handling valuable information beyond banking and shopping transactions.
Baidu will focus on the anonymous data of users collected from 3,000 business and shopping centers and districts as well as 2,000 industrial parks across China. The accuracy of information is difficult to verify but Wu said the search giant will run spot checks of falls in staff levels at industrial parks to make sure they matched fluctuations in the Baidu Employment Index. It can resort to sources such as media reports about job losses, or falls in the amount of users.
The Baidu Consumer Index will track visits to everything from shops to cinemas and restaurants. It will then use this to infer how much Chinese people are splurging on retail therapy.
This goes well beyond a purely academic exercise: Baidu says its indexes and data can have real business implications.
Baidu says it can infer demographic details such as gender, ages and wealth of people in any given area. By blending that with search queries and comparing it to existing demand, say for coffee shops, chain stores like Starbucks can decide where to place their next outlet for maximum profit, Wu said. As an experiment, in late 2015 it worked out the optimal location to plant a cafe, and by January 2016 the U.S. brand had opened a store just 200 meters away.
"We can measure how many people visit the Apple store in China and by this we can predict their revenue for the next quarter," he said.